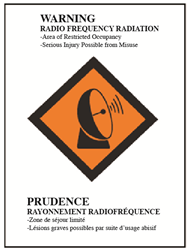 "This new French language Safety Code 6 course adds what we feel will be another popular option for our customers,"
GREENVILLE, N.C. (PRWEB) April 11, 2019
French speaking Canadian wireless and tower workers have lacked effective Radio Frequency (RF) Safety Awareness online training. Recognizing this need, LBA University, Inc. (LBAU), the safety training unit of LBA Group, Inc., and the leading provider of online RF Safety training in the U.S. and Canada, has released a new French language Health Canada's Safety Code 6 (SC6) RF Safety Awareness course. The SC6 online course is now available in French and English 24/7, anywhere at: https://www.lbagroup.com/lbauniversity/course/canada-safety-code-6-rf-safety-awareness/.
Like the English version of the course, the French version teaches Canadian RF exposure standards, including how to identify Canadian signage. It is intended for wireless industry RF exposed workers such as tower and cell techs to educate on the guidelines of the SC6 documents prepared by the Radiation Protection Bureau of Health Canada. It defines the workplace RF environment and what demonstrates compliance with the MPE standards set forth in the regulations.
LBAU has trained thousands of workers across the U.S. and Canada on RF Safety and compliance with multilingual offerings. "This new French language Safety Code 6 course adds what we feel will be another popular option for our customers," LBAU Training Coordinator, Kiara Walbrook said.
LBA's convenient, online ordering option and intuitive Learning Management System is available 24/7 for this new French language Health Canada's Safety Code 6 (SC6) RF Safety Awareness Course and all LBAU corporate training options.
For more information on the new French language SC6 course and the wide range of RF and other corporate safety training options offered by LBAU, visit https://www.lbagroup.com/lbauniversity/course-catalog/ or contact Kiara Walbrook at 252-757-0279, kiara.walbrook(at)lbagroup(dot)com.
About LBA Group, Inc.
LBA Group, Inc. has over 50 years of experience in providing technology and risk management for industrial and telecommunications infrastructure assets in the radio frequency and electromagnetic spaces. LBA is a multiple INC5000 awardee, CVMSDC-certified, and is a North Carolina Top 50 Hispanic minority-owned small business. The group is comprised of LBA Technology, Inc., a leading source and integrator of radio frequency systems, lightning protection, and EMC equipment for broadcast, industrial, and government users worldwide; the professional technical consultancy Lawrence Behr Associates, Inc.; and LBA University, Inc. providing online professional training. Through all of its business units, LBA provides an RF Safety One Stop™ option for comprehensive RF Safety industry training, PPE, audits, and remediation. The companies are based in Greenville, N.C., USA. Keep up with what's going on at LBA by following the company on Facebook and LinkedIn.