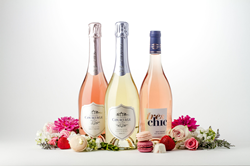 "With Tawnya Falkner's brand vision for the next chapter, Le Grand Courtâge wines are well-positioned for further growth." Mark Giordano, President Pacific Highway Wines
GREENSBORO, N.C. (PRWEB) September 22, 2020
Pacific Highway Wines today announces a partnership with successful French brand, Le Grand Courtâge. Effective October 1, 2020, Pacific Highway Wines will become the exclusive import, sales and marketing agent for Le Grand Courtâge sparkling wines and Très Chic Rosé wine in the U.S.
Three wines will be added to the Pacific Highway portfolio: Le Grand Courtâge Blanc de Blancs Brut and Le Grand Courtâge Brut Rosé, both available in 750ml (SRP $19.99) and mini 187ml (SRP $7.99), and Très Chic Rosé, a still rosé available in 750ml (SRP $16.99).
Le Grand Courtâge is an independent female owned and managed, fast-growing French wine brand launched by American entrepreneur Tawnya Falkner and is now the top selling French sparkling wine brand in the $15 - $19.99 (Premium) category according to Nielsen. Sourcing from across multiple French wine regions, and blending unique varietals, the wines are crafted in Nuits-Saint-Georges, Burgundy. Le Grand Courtâge Blanc de Blancs Brut is a blend of Chardonnay, Colombard, Ugni Blanc and Chenin Blanc from Burgundy, Loire Valley and Languedoc, and Le Grand Courtâge Brut Rosé is a blend of Chardonnay, Ugni Blanc and Gamay from Burgundy, Languedoc and Beaujolais. Le Grand Courtâge recently launched a second brand and single sku, Très Chic Rosé. From Pays d'Oc, this wine is a blend of 70% Grenache and 30% Cinsault.
Tawnya Falkner, Proprietor and CEO of Le Grand Courtâge, explained the new partnership, "We look forward to working closely with the team at Pacific Highway Wines to take our brands to the next level with furthered national expansion opportunities. Food and wine are the great common denominator of people, and for me creating and growing Le Grand Courtâge to our current volumes has been hugely rewarding, but as we transition to our next chapter, we need an expanded sales force and to be a part of a more powerful portfolio of brands. A strategic partnership with Pacific Highway Wines puts us in a great position to amplify and uplevel the brands in the marketplace."
Pacific Highway Wines continues to go from strength to strength and remains dedicated to showcasing independent brands with unique and appealing offerings. The company is in a dynamic state of growth, with an expanding import and domestic portfolio along with new sales and marketing roles. Pivoting quickly during the first half of 2020 allowed the company to finish its fiscal year up 20%.
"We are honored to have the opportunity to represent, and to grow Le Grand Courtâge in the U.S.", remarks Mark Giordano, President Pacific Highway Wines. "With a truly impressive track record of year on year growth with 50,000 cases in depletions in 2019 we are excited to add our first sparkling brand. It should be noted that the brand is the top selling Premium French Brand in the US by volume and growing 37% (Nielsen 52 wks 8.8.20). With Tawnya Falkner's brand vision for the next chapter, Le Grand Courtâge wines are well-positioned for further growth."
# # Ends # #
About Pacific Highway Wines - Pacific Highway Wines & Spirits is a fast-growing, specialized import, sales, and marketing agency headquartered in Greensboro, NC. Owned jointly by Australia's Oatley family and New Zealand's Giesen family, the Pacific Highway portfolio is based on family-owned brands from coveted wine regions across the globe, with offerings from Argentina, Australia, California, Chile, France, Italy, New Zealand, Oregon, Spain, South Africa, and Uruguay. http://www.pacific-hwy.com
About Le Grand Courtâge - Award-winning French sparkling winery Le Grand Courtâge, which also produces Très Chic Rosé, is owned and operated entirely by women. Sold nationally, Le Grand Courtâge symbolizes "the Great Courtship" and signifies the courtship between French and American wine culture, grapes from different regions and the old and new world styles. Founder Tawnya Falkner's vision was to create an affordable luxury which personifies the French spirit of joie de vivre and both elevates and celebrates the every day. http://www.legrandcourtage.com