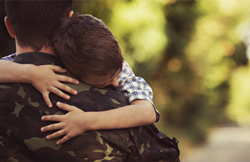 GREEN BAY, Wis. (PRWEB) June 28, 2019
The area's premier new and used car dealership is giving customers an opportunity to give back and save on automotive service this summer. Le Mieux is honoring the Toyota Complete Event that offers a conventional oil change, multi-point inspection and tire rotation for $49.95. There is also a special offer for synthetic oil at $61.96. Toyota is donating $2 to Support of Troops, a 501(c)(3) organization, for every complete service done in June and July at Le Mieux Toyota and participating dealerships.
Every service appointment at Le Mieux Toyota is completed by a team of factory-trained and ASE-certified master technicians who bring the experience and skill set necessary to tackle even the most complicated automotive repairs. Le Mieux Toyota has a large, state-of-the-art service department onsite and offers easy appointment scheduling options. Car owners can make an appointment for maintenance by calling the service center directly or by using the dealership's convenient online scheduling form.
Car owners who have ToyotaCare, Scion Service Boost or ToyotaCare Plus plans may have the type of service included in this special covered at no cost. In that case, this service offer may not be applicable. Customers are encouraged to see their plan for complete coverage details and to contact Le Mieux Toyota with any questions.
The dealership is located at 2550 South Oneida Street in Green Bay. More information about the Toyota Complete Event can be found at lemieuxtoyota.com or by calling 800-633-7045 and speaking to the Le Mieux Toyota Service Department staff directly.