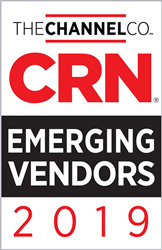 As we continue to innovate in pursuit of an autonomous SOC, we will continue to rely on our partners to help us reach critical mass with our platform, while benefiting their business goals and bottom lines.
TEL AVIV, Israel and ATLANTA (PRWEB) July 24, 2019
IRONSCALES, the world's first automated phishing prevention, detection and response platform, today announced that it has been named an Emerging Vendor by CRN for the third year in a row.
This annual list by CRN, a brand of The Channel Company, honors suppliers that prioritize technological innovation and shape the IT channel's future. IRONSCALES, which now boasts over 55 channel partners worldwide, was recognized in the security category for its AI-driven email security platform that helps solution providers meet complex IT market demands, achieve bottom-line results, and deliver best-in-class offerings.
"CRN's 2019 Emerging Vendors list recognizes new, rapidly growing vendors that are making significant IT channel contributions," said Bob Skelley, CEO of The Channel Company. "It honors groundbreaking vendors that provide sophisticated technology to drive channel growth and remain committed to ongoing innovation to shape the channel for years to come."
Earlier this year, IRONSCALES announced a new partnership with BDO Managed Detection & Response, empowering one of the world's largest MSSPs to expedite managed detection and respond of suspicious messages. In addition, new partnerships with distributor Pax8, a value-added cloud distributor, and Champion Solutions Group, a technology services and solutions provider, highlight the company's channel partner growth over the past 12-months.
"Our channel partners provide us with a major competitive advantage in reaching businesses of all sizes in today's hyper-congested email security threat landscape," said Eyal Benishti, founder and CEO, IRONSCALES. "As we continue to innovate in pursuit of an autonomous SOC, we will continue to rely on our partners to help us reach critical mass with our platform while benefiting their business goals and bottom lines."
The IRONSCALES partner program advantage
IRONSCALES' partner program empowers resellers, distributors, MSPs and MSSPs with competitive sales margins, pre-qualified leads, product sales training, jump-start margins and special spiffs, among other benefits. For both its partners and their customers, IRONSCALES provides a comprehensive, integrated email security platform that automates and streamlines phishing attack discovery, investigation, incident response and remediation.
Additionally, IRONSCALES gives end-users and security professionals the right training, tools, and intelligence – with one-click resolution from a single platform – to hunt, log, alert, analyze and remediate phishing attacks. To do so, IRONSCALES learns how both users and attackers behave over time to provide constant innovation, giving everyone real-time visibility and real-time control to detect and stop phishing attacks of all types. This decentralized approach makes anti-phishing effortless and seamless, providing security professionals and end-users with full protection against all types of phishing threats.
For more information on IRONSCALES, visit http://www.ironscales.com and follow @ironscales on Twitter and LinkedIn.
About IRONSCALES:
IRONSCALES is the leader in anti-email phishing technologies. Using a multi-layered and automated approach to prevent, detect and respond to today's sophisticated email phishing attacks, IRONSCALES expedites the time from phishing attack discovery to enterprise-wide remediation from months to seconds, by significantly reducing the workload on incident responders. With headquarters in Tel Aviv and Atlanta, IRONSCALES was founded by a team of security researchers, and IT and penetration testing experts, as well as specialists in the field of effective interactive training, in response to the phishing epidemic that today costs companies millions of dollars annually. It was incubated at the 8200 EISP, the top program for cybersecurity ventures, founded by alumni of the Israel Defense Forces' elite Intelligence Technology unit.