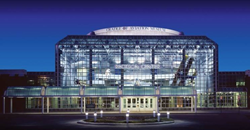 International Jet Interiors is proud to have two business jet exhibits included in the historic Cradle of Aviation Museum - Eric H. Roth, President, International Jet Interiors
GARDEN CITY, N.Y. (PRWEB) August 20, 2020
International Jet Interiors is honored to have two business aviation exhibits included in the Cradle of Aviation Museum in Garden City, New York, where over 100 years of aerospace history is preserved and shared in more than 150,000 feet of museum space consisting of exhibits and actual artifacts.
Listed on the National Register of Historic Places, Mitchell Field Air Force Base is home to the Cradle of Aviation Museum and Education Center, which focuses on "Long Island's rich aerospace heritage of discovery and inspiring future generations through science and technology."
Exhibits include the Apollo and Space Exhibit, featuring the Apollo Lunar Module and extensive Apollo artifacts, as well as F-14 exhibits, a WWI Gallery, a WWII Gallery featuring aircraft produced on Long Island, including the Grumman Avenger, the Grumman Helicat, the Grumman Wildcat and a Waco CG-4 Troop Glider, Jet Age Exhibits as well as Contemporary Aircraft Galleries and the Jet Blue Sky Theater Planetarium.
The team at International Jet Interiors is proud to be among such notable and prominent aviation leaders, as the aircraft completion company takes their place within the museum as part of Long Island and aviation's esteemed history. Sharing their business aviation expertise, International Jet Interiors has two private jet mock-ups that are on display for aviation enthusiasts and history buffs alike to experience.
"We hope to continue to inspire future aviation professionals and master craftspeople as we share our passion for excellence and all things aviation," shares International Jet Interiors President, Eric H. Roth. Mr. Roth continues, "we invite you to visit the Cradle of Aviation and Experience Something Extraordinary®."