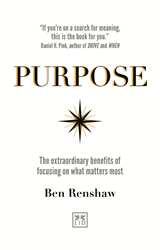 If you're on a search for meaning, this is the book for you. —Daniel Pink, author of "Drive" and "When"
NEW YORK (PRWEB) August 27, 2018
We live in disruptive times. Deadly terrorist attacks, extreme weather, large scale migration, cyber security, economic inequality, societal polarization, fake news — how is one to determine the "correct" path to follow?
In his latest book, "Purpose: The Extraordinary Benefits of Focusing on What Matters Most" (LID Publishing, 2018), the UK's preeminent executive leadership coach Ben Renshaw argues that the starting point for relating to the world today is through the lens of purpose. On the individual level, purpose is your internal compass, the meeting point between your passion and your talent. It is a deep conviction about what matters most. At the broader, organizational level, it is the commitment that runs through all departments and brands, and unites all employees behind a common aim.
A classically trained violinist turned speaker, author, and leadership coach, Renshaw draws upon both personal and professional experiences in this distillation of key life learnings about how to lead with purpose. He recounts his formative years, giving up his pursuit of music for the more personally gratifying journey of leadership coaching — a path that allows him to explore his insatiable interest in the complexity of the human condition. He also provides inspiring professional anecdotes from his time spent coaching scores of leaders and teams from large organizations across a range of sectors, including aviation, banking, FMCG, law, manufacturing, retail, and technology.
Reflecting on his personal and professional journey, Renshaw says, "My experience has led to the realization and conviction that unless people and organizations discover and live their purpose, the opportunity to fulfill their potential is limited. Purpose is the catalyst for personal meaning. Purpose is the glue that binds teams together. Purpose is the inspiration that enables organizations to outperform."
"Purpose" is available for pre-order on Amazon, Barnes & Noble, and IndieBound (paperback, retail price: $19.95) and will be released for sale in the US on September 4, 2018.
Advance praise for "Purpose" includes:
"Ben Renshaw writes about one of the most important drives in our life — our sense of purpose. In this book you'll explore all the ways purpose can guide, motivate, and fulfill you, both personally and organizationally. If you're on a search for meaning, this is the book for you." —Daniel Pink, author of "Drive" and "When"
"'Purpose' is a great contribution to helping make lives better and everyone should read it." —Marshall Goldsmith, author of "What Got You Here Won't Get You There" and corporate America's preeminent executive coach
"'Purpose' is for people wanting to reach new levels of meaning, performance, and to accelerate growth." —Keith Barr, CEO, InterContinental Hotels Group PLC
About Ben Renshaw:
Ben Renshaw is one of today's most foremost leadership thinkers. Speaker, coach, and author of eight books, Ben's innovative work with leading organizations, senior executives, and entrepreneurs has brought him international acclaim. Formerly a classical violinist, Ben plays a different tune getting the best out of people. He believes that everyone has a purpose and that to discover and lead with purpose is the greatest opportunity in life. Ben partners with leaders and organizations focused on how to be purpose-led. Ben's signature programs include "Leading With Purpose," "Coaching2Lead," "Leading Sustainable Growth," "Authentic Leadership," "Connected Leadership," and "Agile Leadership." He writes about how to lead and be successful in today's volatile world with popular books: "Successful But Something Missing," "SuperCoach," and "LEAD!" He spends time with clients like Allen & Overy, Boots, BT, Cadbury, Coca-Cola, Heathrow, Heinz, Henley Business School, IHG, M&S, Nationwide, NATS, NHS, P&G, Rolls Royce, Sainsbury's, Sky, UBS, Unilever, Virgin Media, and Zurich. Visit: https://www.benrenshaw.com/
About LID Publishing:
LID Publishing specializes in working with business authors and organizations to help them develop content to promote their brand, message, and expertise. Founded in 1993, LID has over 1,700 authors and continues to add approximately 120 new titles each year. Visit: http://lidpublishing.com/