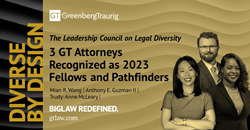 NEW YORK (PRWEB) February 08, 2023
Three attorneys at global law firm Greenberg Traurig, LLP were selected to join the Leadership Council on Legal Diversity (LCLD) as 2023 Fellow and Pathfinders. Litigation Shareholder Mian R. Wang was named an LCLD 2023 fellow, and Associates Anthony E. Guzman II (Labor & Employment) and Trudy-Anne McLeary (Corporate) were selected as 2023 LCLD Pathfinders.
The LCLD Fellows Program provides professional and personal development opportunities for diverse, talented, midcareer attorneys at LCLD member organizations. The Pathfinder Program serves a similar purpose for early-career attorneys. Greenberg Traurig is among the organizations with a leader who shared their commitment publicly by posting their personal Leader's Pledge to LCLD. Click here to see the pledge by Greenberg Traurig Co-President Ernest L. Greer.
Wang, of the firm's Boston office, is an MIT-trained critical thinker focusing her practice on high-stakes business problems. She routinely handles matters related to fraud, breach of fiduciary duties, high-value breach of contract, preference claims, Uniform Commercial Code secured transactions, negligence, and fraudulent transfers. In addition, she has experience representing financial institutions in litigation involving claims brought under the UCC, Fair Credit Reporting Act, the Fair Debt Collection Practices Act, the Telephone Consumer Protection Act, and Massachusetts unfair and deceptive trade practices. Her practice covers multiple disciplines and industries.
Guzman, of Greenberg Traurig's San Francisco office, represents employers in traditional labor disputes and complex wage and hour class and collective actions. He regularly works with employers in the health care, energy, logistics, and agricultural sectors in developing strategies for union-election campaigns, workplace litigation, and executive employment agreements. Guzman regularly authors published articles on developing labor and employment law trends and serves as one of the coaches for the U.C. Berkeley School of Law mock trial program.
McLeary, of the firm's founding office in Miami, has experience advising private equity firms, investors, and private companies in a variety of corporate and transactional matters, including mergers and acquisitions, financings, stock purchases, and asset purchases. She also advises clients on corporate governance issues and other general corporate matters.
LCLD has more than 400 corporate chief legal officer and law firm managing partner participants who have dedicated themselves to building a more open and diverse legal profession, according to the organization. For more information about LCLD programs, visit http://www.lcldnet.org.
About Greenberg Traurig's Diversity Initiative: From its inception, Greenberg Traurig has been committed to diversity, equity, and inclusion in the workplace. Greenberg Traurig is a uniquely empowering and diverse firm built on a foundation of fairness, equality, and authenticity. Through its Social, Racial, and Economic Justice Action Plan, the firm has committed $5 million over five years to help combat systemic racism and support impoverished communities. In addition, the firm's efforts have been recognized through its Mansfield Rule 5.0 Certification Plus, administered by The Diversity Lab, and by local, national, and global publications and organizations including Chambers and Partners. Web: https://www.gtlaw.com/en/general/our-firm/diversity Twitter: @GT_Drives.
About Greenberg Traurig: Greenberg Traurig, LLP has more than 2650 attorneys in 44 locations in the United States, Europe, Latin America, Asia, and the Middle East. The firm is a 2022 BTI "Highly Recommended Law Firm" for superior client service and is consistently among the top firms on the Am Law Global 100 and NLJ 250. Greenberg Traurig is Mansfield Rule 5.0 Certified Plus by The Diversity Lab and is recognized for powering its U.S. offices with 100% renewable energy as certified by the Center for Resource Solutions Green-e® Energy as a member of the U.S. EPA's Green Partnership Program. The firm is known for its philanthropic giving, innovation, diversity, and pro bono. Web: http://www.gtlaw.com.