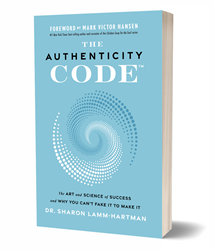 PHOENIX (PRWEB) November 09, 2021
Leadership Expert Dr. Sharon Lamm-Hartman has topped numerous bestseller lists with her debut self-help book, "The Authenticity Code™: The Art and Science of Success and Why You Can't Fake It to Make It." The book is now a WSJ bestseller, where it reached #2 in nonfiction eBooks, as well as a USA Today bestseller. In addition, the book debuted #1 on over 10 Amazon bestseller lists, including Nonfiction, New Releases, Motivational Self-Help, Communication Skills, Business Leadership, Business Communication Skills and Personal Finance. The book was also on Barnes & Noble's bestseller list, which it also topped.
"The Authenticity Code™" combines the best of a page-turner parable and a practical tool business book to deliver encouragement and proven tools for cracking the code to becoming a more authentic professional or leader. With a foreword from "Chicken Soup for the Soul" co-author Mark Victor Hansen, "The Authenticity Code™" tells the story of a fictional corporate vice president choosing a sales director from two talented protégés. After they present their cases, he realizes that neither of them is impressive enough to qualify. Instead of giving up, the leader sets out to teach his candidates what they need to know via The Authenticity Code™ Program. Like the candidates in the book, the reader will learn to look within themself and decide who they truly are and what they really want from life and work—and how to go about getting it. "I couldn't be more thrilled that the book is being received as well as it is," said Dr. Sharon. "It validates that there are people who are looking to better their lives and find success by becoming their more authentic selves, and that is very gratifying."
ABOUT DR. SHARON LAMM-HARTMAN
Dr. Sharon Lamm-Hartman is the Founder and CEO of Inside Out Learning, Inc. (IOL), an award‐winning global leadership, team and organization development consulting business. With a doctorate from Columbia University and a Master's from Cornell, in addition to running IOL, Dr. Sharon is a global executive and presentation skills coach, leadership and organization development consultant, speaker, writer, educator, wife and mom. She has designed and delivered over 3,000 innovative programs, including many women's development and authentic presence and presentation skills programs. Dr. Sharon has worked with tens of thousands of CEOs, executives, educators, professionals, and entrepreneurs worldwide. She has been an Adjunct Faculty Member at Columbia University and the Center for Creative Leadership and has been featured in publications such as Forbes, CEO World Magazine, Authority Magazine, The New York Times, and several radio, television and podcast programs.