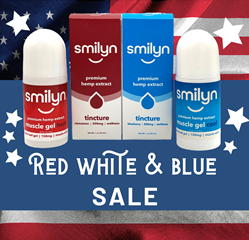 What greater way to celebrate than with a hemp-infused limited-edition pack built for an active lifestyle.
SAN DIEGO (PRWEB) June 29, 2020
No fireworks? No problem. Smilyn Wellness, a market leader in hemp-derived CBD products, announces its limited-edition Red, White, and Blue Pack — now available through July 5th.
The new Smilyn pack features a curated assortment of products: CBD tinctures (1x blueberry and 1x cinnamon-flavored tincture) and CBD roll-ons (1x cool and 1x heat muscle gel).
The blueberry tincture earned the name — the blue dream of CBD. The cinnamon tincture has a bold, sweet kick. Each tincture contains broad-spectrum phytocannabinoid-rich hemp oil, known for its health benefits like suppressing anxiety, easing pain, fighting inflammation, combating nausea and insomnia, easing the symptoms of stress, and much more.
The roll-ons provide fast pain-relief, quick muscle recovery, reduced inflammation — and feel like a mini-massage with powerful cooling and heating gels.
So, whether you're looking to stock up on your fan-favorite CBD products, ready to upgrade to the Smilyn brand, or just curious to try CBD for the first time, it's a booming deal you don't want to miss.
Celebrate with Red, White, and Blue
July 4th is right around the corner, but you don't have to wait until then to score one of the best CBD discounts. To celebrate red, white, and blue, Smilyn Wellness is offering 30 percent off sitewide until the end of July with code SALE30.
"It's time to break out the red, white, and blue and celebrate Independence Day," stated Brett Weiss, CEO and Co-founder of Smilyn Wellness. "What greater way to celebrate than with a hemp-infused limited-edition pack built for an active lifestyle. The newly unveiled packaged deal is a natural extension of our storied brand."
Smilyn Wellness offers a large selection of CBD for sale online, including CBD tinctures, gummies, roll-ons, softgels, face masks, and CBD pet tinctures, to name a few.
About Smilyn Wellness
Smilyn Wellness in Carlsbad, California, is a CBD-wellness brand simplifying the benefits of premium hemp extract. We exist to revolutionize. We exist not only to help individuals look and feel incredible — but also smile throughout the journey of life. Combining scientific data with health-based knowledge, Smilyn offers a portfolio of CBD products that are trustworthy, tasty, and geared toward an active new-age lifestyle.