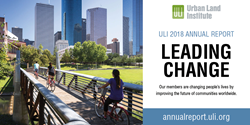 "This annual report is a testament to the commitment of our members to make a difference." ULI Global Chief Executive Officer W. Edward Walter.
WASHINGTON, D.C. (PRWEB) December 14, 2018
Successful efforts by the Urban Land Institute's 42,000-plus members to help create vibrant, sustainable communities worldwide are highlighted in Leading Change, the Institute's annual report for fiscal year 2018 (July 1, 2017 through June 30, 2018).
The report demonstrates a heightened emphasis on member engagement, knowledge sharing and impact resulting from ULI's Global Strategic Plan, which was created and approved during FY 2018 based on member feedback on how to keep ULI improving for the future. The plan focuses on delivering greater member value through investments to improve member connections and involvement with ULI; strengthening and broadening ULI's member networks; and, most important, encouraging more philanthropic giving to expand ULI's reach.
The Institute's substantial impact is reflected in numerous achievements in FY 2018, each of which helped reinforce ULI's standing as the world's foremost global authority on land use and real estate. Highlights include:

An increase in global membership to more than 42,000 – the highest level achieved since the Great Recession.
More than 2,100 events in the Americas, Europe and Asia Pacific regions that underscore ULI's role as a thought leader on land use and real estate, including major global and regional meetings that together attracted nearly 11,500 members.
A program to recognize and leverage the substantial expertise of ULI's most senior leaders by providing more opportunities to engage with the Institute.
Advancements in a technology platform that encourages member engagement -- Navigator, which connects members to volunteer opportunities; Knowledge Finder, which connects members to member-generated content; and the Member Directory, which connects members around the globe to each other.
Steady growth of ULI's global Advisory Services Program, which in FY 2018 provided assistance to 17 communities on a variety of urban development challenges, from mitigating homelessness in Los Angeles to rethinking future development patterns in Wuhan, China. In addition, 43 Technical Assistance Panels were hosted by ULI's District Councils and National Councils, which serve members locally.
Participation by more than 6,000 high school and undergraduate students and 340 public officials in Urban Plan -- ULI's urban design and development curriculum, including a continued expansion in the Europe and Asia Pacific regions.
Member-informed research from the Terwilliger Center for Housing on the evolution of urban neighborhoods; the Center for Sustainability and Economic Performance on building for resilience; the Center for Capital Markets and Real Estate on industry trends; and from ULI Europe on well-planned density.
"This annual report is a testament to the commitment of our members to make a difference," said ULI Global Chief Executive Officer W. Edward Walter. "It shows the many ways our members effect positive change in communities around the world, such as advising on urban development challenges, helping students understand the opportunities presented by design and development, informing research that identifies industry trends; and sharing expertise for the benefit of other members. With the direction provided by our Global Strategic Plan, we are well-positioned to continue this progress in the months and years ahead."
The report website is easy to navigate: The Leaders section contains messages from ULI Global Chairman Thomas W. Toomey and Global Chief Executive Officer W. Edward Walter; the Stories section illustrates member engagement, knowledge sharing and impact; the Numbers section shows ULI's progress through key data points; and the Supporters section recognizes the individuals and organizations who provide resources to advance ULI's mission globally.
About the Urban Land Institute
The Urban Land Institute is a nonprofit education and research institute supported by its members. Its mission is to provide leadership in the responsible use of land and in creating and sustaining thriving communities worldwide. Established in 1936, the institute has more than 42,000 members worldwide representing all aspects of land use and development disciplines. For more information, please visit uli.org or follow us on Twitter, Facebook, LinkedIn, and Instagram.