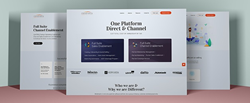 Please visit www.mindmatrix.net to take a look at the updated Mindmatrix website.
PITTSBURGH (PRWEB) November 18, 2019
Leading channel and sales enablement solutions provider, Mindmatrix today announced the launch of its updated and redesigned website, http://www.mindmatrix.net. The new site is lighter, easier to navigate and covers Mindmatrix's extensive product and service offerings comprehensively.
Some key additions to the website content include the definition of Mindmatrix - as a company and as a platform. It says, "Mindmatrix is not only a premier software platform, but a group of diverse, customer-oriented people who share a common goal to help you sell well, and have done so for the past 21 years. Mindmatrix is the only provider in the market that offers a single platform for end-to-end enablement of direct sales and partners." The updated website also highlights the 40+ product features of Mindmatrix and has an extensive page dedicated to each one of them.
Some key pages to check out on the site include:

Speaking of the updated website, Katie Rodgers, Marketing Manager, Mindmatrix, says, "A sleek and unique feel for an automated, tech-savvy environment, the new Mindmatrix website offers a glimpse into what it is like to take on each component of our One Platform with style and ease. Our new site navigation and functionality makes it even easier for users to experience what Mindmatrix has to offer. It also proudly reflects our corporate culture and defines who we are as a company for our current and future partners. Since 1998, we have committed to enabling and streamlining client sales and marketing with an excellent team and world-class software. The new website's design and functionality continues to display our capabilities to clients and prospects alike".
Please visit http://www.mindmatrix.net to take a look at the updated Mindmatrix website.