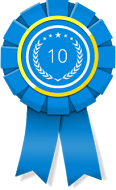 CHICAGO (PRWEB) October 31, 2018
Recently, 10 Best Design chose the winners of its Best Chicago Web Design Firm awards for October 2018, honoring Color Jar with the first-place prize. It is a newly-released monthly award, and more monthly lists will be published in the near future.
Choosing the best Chicago website development business allows a company owner to move forward with a comprehensive growth strategy. Today's consumers expect modern sites with a full spectrum of functionality. They also expect those sites to be responsive and easy to navigate. The site must also have an optimal layout and use fonts and colors that are easy on the eyes. In order to facilitate the process of choosing the best web development firm that is headquartered in Chicago, the 10 Best Design service has set up a new monthly award. Companies that have attained a spot on this list of the 10 best options have earned the award based on a variety of factors. This press release outlines three of the leading firms for the October 2018 honors.
The October 2018 leader for Chicago web design firms is Comrade, a leading web design firm that operates very effectively. Although Comrade has a small staff of 10 to 50 people, they get a lot done. Everyone on the staff works as efficiently as possible in order to build responsive sites for their clients. The sites they build are known for their ease of navigation and their security. They perform well for eCommerce needs.
The second-best firm on the list of best Chicago website development businesses is Blue Fountain Media. The company has offices located in several large cities around the United States, including Chicago. Blue Fountain Media is in the top quintile for its fee structure, and customers reap the benefits of what they pay for. The team at Blue Fountain Media is able to build marketing services such as SEO into their site designs. This means that clients are able to get a great SERP when the newly built or updated site goes live.
Coming in at third place for the best web design firm in Chicago is Color Jar. As a top web design firm, Color Jar has a staff of people who are very adept at marketing. They are also in tune with the customer's needs and expectations for the finished site. With a 98 percent customer satisfaction rating, Color Jar delivers what its customers want and when they want it. Their hourly fee is above average for the industry. Although Color Jar is a small firm with between 10 and 50 staffers, it makes a big impact on the successes of its clients.
For more details about this month's winners, please visit http://www.10bestdesign.com.