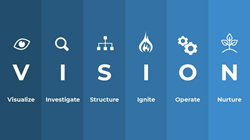 Forward Vision has a long track record of successfully helping international companies launch and grow their North American business.
DALLAS (PRWEB) January 19, 2021
Forward Vision Marketing, a full-service B2B agency that specializes in the marketing of technology products and services, has joined the Asian Chamber of Texas (ACT), aligning itself more closely with a large portion of its client base.
Founded in 1986, ACT is one of the oldest Asian chambers of commerce in the United States. Formerly known as the Greater Dallas Asian-American Chamber of Commerce, its mission is to foster economic growth and development among Asian businesses.
Forward Vision's founder and Principal Kelly Stark noted the agency has a long track record of successfully helping international companies launch and grow their North American business. Many of the firm's clients are headquartered in Asia, including its very first client, RFID manufacturer Convergent Systems, which is located in Hong Kong.
ACT President Susan Phillips said, "By joining ACT, Forward Vision has connected itself with a diverse membership, a large body of intelligent and able people who are dedicated to growing their business and expanding economic growth and development."
Last year Forward Vision was certified as a Women's Business Enterprise by the Women's Business Council Southwest, a regional certifying partner of the Women's Business Enterprise National Council. To qualify, a business must be 51% owned by a woman or women.
Forward Vision partner and Principal Dyanne Williamson said certification was a rigorous process, but well worth it. "It announces to the country that Forward Vision is who we say we are – 100% woman-owned," she said. "And it lets our clients and potential clients know that we are committed to diversity and its benefits. Having a diverse workforce brings more creativity, innovation and fresh thinking to the work we do for our clients."
More About Forward Vision Marketing
Forward Vision Marketing is a full-service B2B marketing agency that understands technology, especially wireless technology. Our 225 years of combined marketing experience uniquely equips us to meet your challenges. We go beyond digital and traditional marketing, offering product and service launch, brand management, product portfolio strategy, market research and sales enablement. Our client portfolio includes Fujitsu Network Communications, SOLiD, ISCO International, SML and MSM Solutions. For more information visit Forwardvision.net.