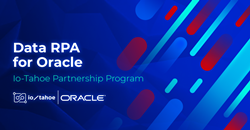 "We are very excited to provide Oracle Partners and Customers with new capabilities that accelerate modernizing their data to build and curate knowledge across their digital enterprise." -Ajay Vohora, CEO, Io-Tahoe
NEW YORK (PRWEB) March 22, 2021
The Oracle Cloud Marketplace is a centralized repository of enterprise applications offered by Oracle and Oracle Partner Network members. Customers get access to leading compute, storage, data management, security, integration, HPC, artificial intelligence (AI), and Blockchain services to augment and modernize their critical workloads.
Io-Tahoe equips Oracle users with AI/ML driven digital workers that perform the complex, repetitive, large-volume tasks required to unify, standardize and serve data at an enterprise scale. A revolutionary user experience allows you to intuitively navigate your entire data estate with ease. Simply connect to your data sources with secure APIs to perform Automated Data Discovery - producing a knowledge catalog, metadata store, business glossary and lineage map in one easy sweep. Pre-programmed with over 300 policies like GDPR, BCBS, etc. Io-Tahoe's digital workers identify sensitive data, make recommendations on data quality to serve the "human in the loop" with no code required.
Io-Tahoe's Data RPA is extensible to cover many use cases:

Identify what data you have across application environments
Identify redundancy, duplication and dependencies so you can consolidate to save on storage and facilitate migration workloads
Generate a single version of the truth with high data quality standards and certification for your business reporting
Establish a self-service environment for your BI and analytics teams.
Clean up CRMs and Data Lakes, facilitate migration to cloud, and serve data modernization to fuel customer experience initiatives.
Io-Tahoe's commitment to innovation with Oracle Cloud helps our mutual customers accelerate their migration to become a digital-first enterprise that relies on one single version of the truth without replacing legacy IT investments.
"We are very excited to provide Oracle Partners and Customers with new capabilities that accelerate modernizing their data to build and curate knowledge across their digital enterprise." -Ajay Vohora, CEO, Io-Tahoe
Io-Tahoe Capabilities Across the Enterprise Data Estate:
AI/ML-Driven Digital Workers continuously performing repetitive tasks
Automated Data Discovery
Automated Data Mapping
Automated Knowledge Catalog
Automated Metadata Store & Business Glossary
Automated Data Quality Assessment & Scoring
Automated Data Lineage, Linking, and Mapping
Automated Data Remediation, Governance, and Policy Application
Business Rule Management
About Oracle PartnerNetwork
Oracle PartnerNetwork (OPN) is Oracle's partner program designed to enable partners to accelerate the transition to cloud and drive superior customer business outcomes. The OPN program allows partners to engage with Oracle through track(s) aligned to how they go to market: Cloud Build for partners that provide products or services built on or integrated with Oracle Cloud; Cloud Sell for partners that resell Oracle Cloud technology; Cloud Service for partners that implement, deploy and manage Oracle Cloud Services; and License & Hardware for partners that build, service or sell Oracle software licenses or hardware products. Customers can expedite their business objectives with OPN partners who have achieved Expertise in a product family or cloud service. To learn more visit: http://www.oracle.com/partnernetwork
About Io-Tahoe
Io-Tahoe is the leader in Enterprise Data RPA software, harnessing the power of our patented data automation technologies to help organizations empower employees to achieve more. Companies around the world rely on Io-Tahoe data automation technology to guide action and drive change that results in millions of dollars saved.
With origins in both industry and the open-source community, Io-Tahoe has always been devoted to simplifying data, sharing knowledge, and pursuing truths. Founded in 2017, Io-Tahoe brings together data engineering, science, and analytics on an open, unified platform so data teams can collaborate and innovate faster.
Venture-backed and headquartered in New York (with offices on three continents) and a growing ecosystem of customers, Io-Tahoe is on a mission to help data teams solve the world's toughest problems. For more information, visit https://www.iotahoe.com/