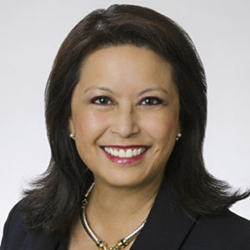 Next to washing your hands, effective oral hygiene for your teeth and gums is a necessary practice to stay healthy during COVID-19 and avoid complications in the case of infection.
SAN FRANCISCO (PRWEB) May 19, 2020
Today, with millions of Americans under 'stay at home orders' and unable to visit their dentists for regular checkups, the former President of the American Dental Association (ADA), Dr. Carol Summerhays, offers this warning: don't ignore your oral health during this Coronavirus pandemic.
"Research already shows that bacteria found in the mouth is connected to diabetes and heart disease. Now, new reports are showing that not only are people with these conditions most at risk for developing COVID-19 complications but also poor oral hygiene puts Americans, who have the virus, at a higher risk for experiencing severe problems," says Dr. Summerhays. "Next to washing your hands, effective oral hygiene for your teeth and gums is a necessary practice to stay healthy during COVID-19 and avoid complications in the case of infection."
While COVID-19 is a viral disease, it is suspected that in severe forms of the infection, bacteria increases the chance of complications such as pneumonia, acute respiratory distress syndrome, sepsis, septic shock and death.
A recent paper from the British Dental Journal detailed the potential connection between bacteria in the mouth and complications associated with the COVID-19 infection. It explained that if a person with COVID-19 also has poor dental hygiene, that can increase the bacterial load in the mouth, which can lead to a bacterial superinfection. This is particularly relevant to people predisposed to gum disease in the mouth due to diabetes, hypertension, or cardiovascular disease.
Dr. Summerhays offers these dental care tips of what to do and what not to do right now.
1. Implement an effective brushing technique. People should be brushing for two minutes morning and night with a soft bristle toothbrush with the brush at a 45o angle to the teeth. Dr. Summerhays recommends the Oral-B and Phillips Sonicare electronic toothbrushes and Oral-B hand toothbrushes.
2. Pick the right toothpaste. Stay away from much hyped charcoal products. New toothpastes are touting charcoal as a whitener and cleaner. Charcoal is an abrasive and if used improperly can hurt tooth enamel and cause teeth to become sensitive.
For those people suffering from plaque buildup and gum bleeding Dr. Summerhays suggests brushing with LivFresh Dental Gel, which she personally uses. Clinical studies indicate that LivFresh reduces plaque, the root cause of gum disease, up to 250% better than conventional toothpaste. Other options include toothpastes like Crest, Colgate, Paradontax and Sensodyne.
3. Don't forget to brush the tongue. The tongue is just as much of a target for bacteria as teeth. It fights bad breath too. Brushing the tongue attacks the bacteria living on it. Many handheld toothbrushes include tongue brushers on the back for people who do not like the feel of bristles on your tongue.
4. Clean tooth surfaces in between teeth. It is just as important to clean bacteria from between teeth using floss. For people who do not like the traditional wax flosses. there are many options that reach between the teeth like GUM Soft-Picks Original and water flossers from Waterpik.
5. Over the counter mouthwashes. OTC mouthwashes are sold for consumers for different purposes including dry mouth, bad breath, and teeth whitening. Dr. Summerhays recommends that people research the differences between non-alcoholic and alcoholic mouthwashes before purchasing. They should check each product label carefully for benefits and warnings as they determine the appropriate mouthwash for their needs.
"Now, more than ever, it's critical that Americans take daily preventative action at home especially if they can't get to the dentist. We're already washing our hands, socially distancing and wearing masks to prevent the spread of the disease. A few extra minutes of practicing proper daily oral hygiene will benefit our overall health, and lower the severity of COVID-19 if contracted," said Dr. Summerhays.
About Dr. Carol Gomez-Summerhays
Dr. Carol Gomez Summerhays has practiced dentistry for the past 37+ years. She served as the President of the American Dental Association from 2015-2016.
After graduating from the Herman Ostrow School of Dentistry at the University of Southern California, Dr. Gomez Summerhays served as a lieutenant in the US Navy Dental Corps. More information about her background can be found on her LinkedIn.