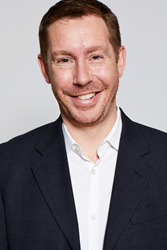 "Charlie is a highly strategic and thoughtful leader with broad perspective of the industry and I'm thrilled to welcome him to HR Acuity" - Deborah Muller, CEO and Founder of HR Acuity
FLORHAM PARK, N.J. (PRWEB) March 26, 2019
HR Acuity, the only technology platform designed specifically to manage and reduce the workplace risk associated with employee incidents and investigations, today announced the appointment of Charlie Holbech as Chief Operating Officer. In this newly created position, Holbech will lead all commercial and operational activities, including sales, marketing, product, service and technology. Building on the company's strong client base and expertise, he will be responsible for accelerating the company's already rapid growth, reaching new markets and driving new levels of innovation.
Holbech brings with him 20 years of global operational, customer success and startup experience in HR, technology, analytics and digital media, most recently as Vice President, Client Experience at WorkMarket, an enterprise software platform that enables companies to organize, manage and pay freelancers, acquired by ADP in 2018.
Holbech helped successfully position WorkMarket for the acquisition by leading a complete overhaul of customer operations, resulting in 97% retention rates achieved by a highly trained, strategic client experience team. Before ADP, Holbech held senior operational and marketing roles at successful technology companies and startups, including Sailthru, Outbrain and Yahoo. He also co-founded Visual Revenue, the first predictive analytics company for news media, which was acquired by Outbrain in 2013.
"Charlie is a highly strategic and thoughtful leader with broad perspective of the industry and I'm thrilled to welcome him to HR Acuity," said Deborah Muller, CEO and Founder of HR Acuity. "Today's workplaces are struggling with workplace risk – from discrimination to harassment to retaliation. Charlie's bias for action, customer focus and broad experience make him the perfect candidate to help us drive continued growth as we help organizations address these pressing issues."
HR Acuity counts major organizations such as LinkedIn, Cosmopolitan Hotels, Cox Enterprises, BoysTown as well as non-profit organizations among its client base. The company's mission is to build safer workplaces by empowering organizations to protect their teams and themselves with purpose-built employee issues and investigations technology that helps businesses anticipate and act on workplace risk the right way.
Holbech said, "I couldn't be more excited to join HR Acuity at this game-changing time for the company. I look forward to partnering with Deb, the team and our clients to manage their critical employee issues and in turn protect both their businesses and their teams."
About HR Acuity
While you can't prevent every employee relations issue, you can change how you respond. HR Acuity is a technology solution that combines documentation, process, and human expertise so organizations can meet the challenge of managing employee relations in the modern world. HR Acuity also generates an annual, proprietary Benchmark Study where Employee Relations professionals can find the most current and robust data on organizational models, staffing ratios, case management, trends and more. For more information, visit http://www.hracuity.com and follow @hracuity on Twitter and LinkedIn.
Be proactive. Manage risk. Create a safer workplace.
Media Contact:
Jason Geller
JMediaHouse
jason (at) jmediahouse (dot) com
212-920-0398