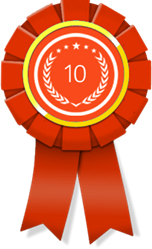 CHICAGO (PRWEB) June 28, 2019
In its latest round of monthly awards, 10 Best SEO has named Straight North and Boostability as two of the best enterprise SEO agencies for June 2019.
Enterprise SEO is crucial for active companies. Here's why: When a business wants to be an online powerhouse for sales, it needs to work with the best Enterprise SEO agency available. There are a lot of hardworking SEO providers and agencies out there, and choosing one that will be a good fit can be challenging. Enterprise SEO is a way to optimize a site so that consumers will find what they want and enjoy their visit. This marketing service ensures that when a consumer does an online search, the results that they see will be relevant, trustworthy and interesting. One of the easiest ways for a business to enjoy the positive effects of Enterprise SEO marketing is to choose one of these top marketing firms.
The top spot for June 2019 Enterprise SEO providers goes to Straight North, a leading enterprise SEO agency located in Chicago. Straight North offers affordable rates and excellent customer care. Their Enterprise SEO builds loyalty and keeps consumers happy because they see relevant options when they do a search. Straight North gives clients a boost through their ongoing campaign analysis services.
Boostability is top enterprise SEO agency located in Lehi. Their affordable services make it easier for emerging firms, entrepreneurs and nonprofits to enjoy more visibility online. Boostability can combine Enterprise SEO with its other marketing services for a highly successful and multi-tiered strategy for attracting more customers to their clients. Their well-researched ads use trending keywords and are shown at specific times.
As a medium-size marketing firm, Ignite Visibility offers exemplary Enterprise SEO services. Being one of the top enterprise SEO firms, Ignite has a marketing team that makes it possible for a company to get noticed and gain a positive search position through carefully researched and implemented key phrases. Ignite Visibility is located in San Diego, but it is able to work with companies across the USA. The associates at Ignite Visibility work with all sizes and types of businesses.
This is a brand-new monthly award category released by the 10 Best SEO service. Company owners might want to return regularly in order to check out the best Enterprise SEO firm. Even if a company is not ready right now for Enterprise SEO, watching this list for a few months could give the owner a good idea of which firm could be the right one for their needs.
For more details about the winning firms for the month of June, visit http://www.10bestseo.com.