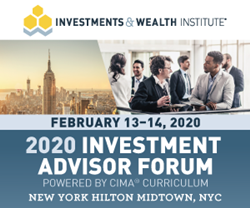 DENVER (PRWEB) January 09, 2020
The 2020 Investment Advisor Forum is the industry's premier portfolio management conference will be held February 13-14, 2020 at the New York Hilton Midtown, New York, NY. The Investment Advisor Forum provides an opportunity for professionals to learn the latest from the nation's leading thought leaders and practitioners in portfolio management, behavioral science, business management, client services, and more.
Designed and delivered by dynamic investment and wealth professionals, attendees will be immersed in advanced portfolio management techniques taught by expert practitioners and Ivy League academics including featured speakers:

Jeff Bush, The Washington Update, Author
Johnathan Golub, Managing Director and Chief U.S. Equity Strategist, Credit Suisse
Sheelah Kolhatkar, The New Yorker, Staff Writer, Financial Columnist and Author
Sarah Mouser,- Cassaday & Company, Inc., Director of Financial Planning
Allison Parc, Brenne French Single Malt Whisky, Founder and President
Andy Rothman, Investment Strategist, Matthews Asia
Sterling Shea, Dow Jones, Global Head of Wealth and Asset Management
Robert Waldele, Waldele Group, Founder and Managing Director
Speakers will focus on staying in front of industry trends, bringing the core fundamentals of the Certified Investment Management Analyst® program to life. They will dive into issues and topics central to the industry, including key themes around the state of portfolio management, economic and political outlooks, applied behavioral finance, and the investment product landscape.
All types of financial professionals are welcome and attendees of the Investment Advisor Forum hail from all advisor channels: full-service wealth management firms, banks, independent firms, and asset management firms. The Investment Advisor Forum will offer up to 12 hours of premier CE credit, including one hour of ethics CE for advisors who have earned the CIMA®, CPWA®, and RMA® certifications. For detailed event information, visit the Investment Advisor Forum event web page. Early-bird pricing ends January 10, 2020.
Press passes are available, please email Devon Coquillard, dcoquillard@i-w.org for more information.
###
For Information:
For additional information, contact Devon Coquillard, communications manager, dcoquillard@i-w.org or (303) 850-3202.
About the Investments & Wealth Institute®
Established in 1985, the Investments & Wealth Institute, is a professional association, advanced education provider, and standards body for financial advisors, investment consultants, financial planners, and wealth managers who embrace excellence and ethics.
Investments & Wealth Institute administers three certifications, Certified Investment Management Analyst® (CIMA®), Certified Private Wealth Advisor® (CPWA®), and Retirement Management Advisor® (RMA®). Through its publications, live events, online courses, assessment-based certificate programs, and advanced certifications, the Institute delivers premier-quality, practical education to advanced practitioners in more than 39 countries.