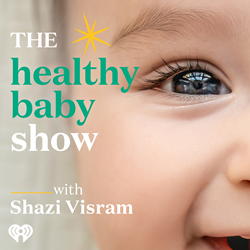 "I am so excited to share my knowledge to help listeners seeking solutions for their fertility challenges," says Dr. Daniel Kort.
NEW YORK (PRWEB) April 04, 2022
Prominent fertility specialist, Dr. Daniel Kort, provided his insight and expertise on a variety of fertility topics, including IVF, fertility preservation and genetic screening during an interview with Shazi Vishram on the "Healthy Baby Show" podcast, which will be airing in the coming weeks. Host Shazi Vishram is the founder of the organic baby food company Happy Baby and CEO of Healthybaby. Each episode in the podcast is a shortcut to hard-won parenting insight from leading doctors, scientists and friends on what the latest science and research says on cutting-edge, debated topics and the future for parents in our rapidly changing world.
At Neway Fertility, Dr. Kort and the team utilize innovative techniques and a personalized approach to deliver some of the highest success rates in the country on everything from traditional IVF, natural alternatives like IVM, mild IVF, natural cycle IVF and natural cycle IVF/M to IUI, genetic testing, embryo screening, egg freezing, egg donation and more. Dr. Kort earned his medical degree from the University of Kansas School of Medicine and completed his training in reproductive endocrinology and infertility at Columbia University in New York. While at Columbia, he completed research in conjunction with the New York Stem Cell Foundation, studying genetic errors during early embryo development. He is double board-certified in obstetrics and gynecology and also reproductive endocrinology and infertility. In addition, Dr. Kort has served as a clinical instructor in obstetrics and gynecology at Weill Cornell Medical College.
"I am so excited to share my knowledge to help listeners seeking solutions for their fertility challenges," says Dr. Daniel Kort.
More about Neway Fertility:
Neway Fertility is part of one of the largest fertility networks in the world. Dr. Jin-Lo Lim, a leader in natural IVF and in vitro maturation, founded the Maria Fertility Hospital in Korea in 1989. Dr. Lim and the team have helped over 70,000 IVF babies come into the world. Neway Fertility offers a variety of services to help patients on their way to parenthood. The facility is a full-service practice offering a variety of conventional and natural IVF treatments, in vitro maturation, fertility preservation, sperm banking and more. Additionally, they make it all affordable by accepting most health insurance, and for those families not covered by insurance, they offer additional options. The clinic is located at 123 W 79th St. New York, NY. For more information or to schedule an appointment, please visit newayfertility.com or call 212-750-3330.