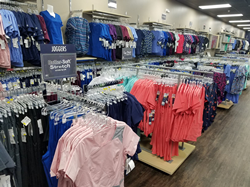 Providing a clean, attractive environment to shop is the absolute least we can do for our heroes in scrubs
FORT LAUDERDALE, Fla. (PRWEB) August 14, 2020
Uniform Advantage (UA), a multi-channel retailer of scrub uniforms and accessories for healthcare and hospitality industries recently opened its newest store in Coral Springs, FL. Uniform Advantage has implemented new safety protocols in its retail stores nationwide to keep its customers and employees safe amidst a global pandemic, while still providing an outstanding shopping experience, and plans to extend that experience to customers at the new location.
Conveniently located near several area hospitals, the new store can be found at 2367 N. University Dr, next to CVS. Uniform Advantage will mark the momentous occasion with a Grand Opening Sale which will feature giveaways and prizes and plans to provide exceptional service while maintaining a positive impact in the surrounding communities for years to come.
Laura DiFeterici, Director of Retail Operations & Training at Uniform Advantage commented on the grand opening, "We're more than excited to welcome our retail customers to our newest location in Coral Springs and provide them an effortless and safe way to browse and shop for their uniform needs. Our customers are the very individuals on the front lines of this global pandemic, and we couldn't be prouder of their continued sacrifice, day in and day out. Providing them a clean, attractive environment to shop is the absolute least we can do for our heroes in scrubs."
For more information on Uniform Advantage retail stores or to find a store near you please visit http://www.uastores.com/.
About Uniform Advantage
Uniform Advantage has represented style, quality and, above all, customer satisfaction for more than 30 years. As the first division of UA Brands, the chain was launched with a single South Florida store in 1985. Today, the company operates 29 retail locations in key markets across the U.S.; e-commerce and print catalog divisions; plus, designs and manufactures its own proprietary healthcare apparel lines. The company's corporate office is based in Fort Lauderdale, Florida with a distribution center near Atlanta, Georgia. Learn more at http://www.UniformAdvantage.com or by calling 800-283-8708.