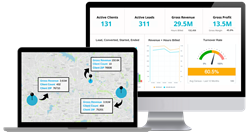 "...we have been able to discover new insights into our data that weren't previously possible." - Jason Wiberg, CFO of Family Resource Home Care
WACO, Texas (PRWEB) January 20, 2021
AxisCare Home Care Software has released its industry-leading Business Intelligence tool, giving home care agencies across the country instant access to essential metrics and KPIs such as Client & Caregiver Heat Maps, Turnover Rates, Hours Billed, Lead Conversions, and more.
AxisCare BI is a robust, yet user-friendly, reporting tool that allows agencies to consolidate, visualize, and analyze their AxisCare data to gain actionable insights. Agencies can filter their data by location, date range, service type, region, and more, in addition to viewing their hours and revenue on a map view. AxisCare consulted with current clients and industry leaders to determine which metrics and views to include.
"The new BI tool provided by AxisCare has proven to be very beneficial to our organization", says Jason Wiberg, CFO of Family Resource Home Care. "We have already put it to great use by streamlining many of our existing reports and analytics. In addition, we have been able to discover new insights into our data that weren't previously possible. So much information is available with just a quick change to the filters, or dragging the timeline bar, or toggling between weekly or monthly, all in a matter of a few clicks!"
"We particularly enjoy the additional insights into our referrals sources and the impact of trends in referrals and the starts of care," Jason continues. "We look forward to using the tool even further, customizing dashboards and charts for specific teams and departments."
"We could not be more excited to release AxisCare Business Intelligence to our clients across the country. This tool is going to help them make better, data-driven decisions for their businesses, resulting in increased profit margins, improved turn over rates, and, most importantly, improved care for the seniors in our communities", says Todd Allen, CEO of AxisCare.
About AxisCare
AxisCare's award-winning home care software is a back-office and point of care solution for non-medical agencies across all 50 states and 6 countries. Specializing in Private Pay, Medicaid, and other 3rd-Party Billing integrations, the platform helps agencies from startup to enterprise stay compliant, cash-flow healthy, and ahead of their competition with built-in marketing and CRM tools. Recently named FrontRunner and Category Leader by SoftwareAdvice and GetApp, their mission is to transform home operations, empowering agencies to provide better care. For more information, they can be reached at sales@axiscare.com or by visiting axiscare.com.