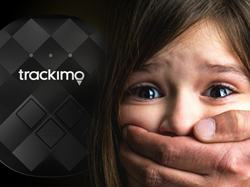 Trackimo's 3G Guardian tracker gives you confidence knowing that you can ensure the safety of your kids at a single touch of a button.
NEW YORK (PRWEB) July 11, 2019
Trackimo introduces the Guardian tracker, a small monitoring device parents can use to keep track of their children and protect them from harm.
According to the FBI, there were 424,066 NCIC entries for missing children last year (2018). A number of these cases stem from kidnappings by family members or strangers. From child abduction cases to them getting lost in large-scale areas, a parent should always be vigilant of the dangers that surround their children.
To address this alarming rate of kidnappings, a leading IoT solutions provider offering the most cost-effective tracking devices develops the 3G Guardian tracker, a 1-ounce device fully equipped with revolutionary hybrid tracking technology (GPS, GSM, Wi-Fi, and Bluetooth). You can now track your children anywhere they are in the world, indoor or outdoor, and in real-time with the precision performance of Trackimo's 3G Guardian tracker.
The Guardian tracker is small enough to fit onto the palm of your hand and hide in your child's backpack, bike, or jeans pocket. And despite the Guardian tracker's size and weight, Trackimo packs it with a powerful battery that lasts anywhere from two weeks up to a whole month in battery save mode on a single charge, unlike other child trackers that require charging every day.
When choosing GPS trackers for kids, keep safety features at the top of your priority. With the Guardian tracker, you can see where your children are with Trackimo's sophisticated mapping system, and it automatically sends smart alerts whenever they cross a safe zone you can set. And with an SOS button, your child can notify you and the authorities whenever there is trouble and broadcast their exact location, giving you your much-needed peace of mind.
Trackimo's 3G Guardian tracker gives you confidence knowing that you can ensure the safety of your kids at a single touch of a button. The best part? Trackimo provides you with free service for the first 12 months and charges you only $5 a month after that. Trackimo offers the lowest monthly service cost of any consumer tracking device worldwide. There are absolutely no contractual obligations. No activation fees. No roaming fees. No other hidden charges.
No more calling a phone that won't pick up. Protect your kids with Trackimo's 3G Guardian tracker now.
Trackimo is the developer of the world's smartest, most compact, and cost-effective tracking device. We provide powerful tracking solution so you can keep a closer eye on the people and things you care about.
If you would like to know more about our products, please call James Moore at +1 646 626 6111 or email marketing@trackimo.com.