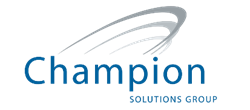 We are very excited to have Frank Hansen and his team at systemiC join Champion Solutions.
BOCA RATON, Fla. (PRWEB) October 26, 2018
Champion Solutions Group, a nationwide systems integrator, announced today the acquisition of consulting and IT development company systemiC LLC. The acquisition will benefit both companies' ongoing efforts to lead the industry in helping clients successfully align their IT services with business needs.
systemiC is a 14-year-old consulting and development company that has successfully helped thousands of companies with implementing and managing IT service management solutions, including IBM BigFix, QRadar®, ServiceNow, Splunk® and Nagios®. These solutions have helped companies increase productivity, reduce costs and mitigate risks and will further complement Champion Solutions' own corporate mission.
"We are very excited to have Frank Hansen and his team at systemiC join Champion Solutions," said Chris Pyle, President and CEO of Champion Solutions Group. "The high-level expertise of systemiC's employees, combined with their intellectual property is unmatched in this space. Their forward-thinking approach and influence within the industry are just a couple of reasons for this acquisition. systemiC is unmatched when it comes to integrating existing security and patch management solutions to ServiceNow, and their efficiency surpasses anything we have seen from any other software or systems integrator."
Frank Hansen, CEO of systemiC added, "We see a huge opportunity to revolutionize the IT Service CMDB (Configuration Management Database) management market, and we believe the combination of Champion Solutions Group and systemiC would be the best way for us to further succeed in the marketplace."
The acquisition will help Champion Solutions Group to deliver unparalleled services and management capabilities centered around CMDB to support its clients' infrastructure, applications, business services, and people. The combined teams and proven best practices will further help both systemic and Champion Solutions better align their IT services with their business needs and goals.
About Champion Solutions Group
Champion Solutions Group, headquartered in Boca Raton, FL, specializes in delivering technology services and solutions to help our customers reduce costs, increase productivity, and mitigate risk. Through our time-tested, proven methodology we are changing the economics of the IT Data Center and the way people work, interact, and adopt technology. Founded in 1979, Champion focuses on virtualization, cloud, and data management and security solutions; and boasts deep technical skill sets in design, implementation, and management of these solutions. For more information, visit http://www.championsg.com.