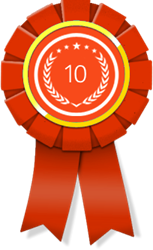 LOS ANGELES, Calif. (PRWEB) July 31, 2018
In its latest round of awards, 10 Best SEO has named Directive Consulting as the Best Los Angeles SEO Agency for July 2018. 10 Best SEO's list goes out every month, and is important to companies who are seeking professional providers in this category.
The winning companies were hand-picked based on their cost-effectiveness and local merit rather than just looking at the size of the company. Although companies do have to submit their websites to be considered for the list, money does not influence their likelihood of obtaining a higher rank.
So exactly what is the goal of SEO companies? SEO or search engine optimization is the clever manipulation of links, keywords and outreach strategies in order to increase a website´s visibility on Google. Of course, both Google and Bing are actively developing advanced algorithms to detect if one is gaming the system so that genuine businesses are brought to the top. This is why modern SEO companies are focusing on quality and relevance to stay within their rules.
Directive Consulting made it to the top of the July list of the best Los Angeles SEO firms. This is no surprise, as they work with a lot of top enterprises in the area. Their SEO services are heavily involved with driving sales per click instead of pure volume. For a business that relies on B2B sales within a narrow niche, their services are highly recommended.
Rank Lab made it to the second spot on the list, which is surprising given the size of the company. As a small, but leading SEO agency, Rank Lab has been able to score some high-end clients with just a few people on their team. This makes them a very efficient startup. If this company decides to expand their operation, it would be no surprise if they dominated the local SEO market. The company deals with improving a company's overall online image, which extends beyond just search engine rankings.
Websites Depot made it to the third spot on the list as a leading SEO agency. Websites Depot has a long list of satisfied customers. As the third-ranking top SEO firm, Websites Depot has a relatively large operation that deals with small and large businesses. With over 9 years in the internet marketing business, they know what it takes to optimize a business so that it has increased visibility to the world. In addition to SEO, they also provide web design and AdWords management services.
For more information about the award winners for the month of July, please visit http://www.10bestseo.com.