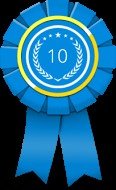 LOS ANGELES (PRWEB) June 26, 2019
In its latest round of monthly awards, 10 Best Design has named SPINX Digital as the Best Los Angeles Web Design Firm for June 2019.
Choosing the best web design firm is one of the biggest decisions that a business owner, nonprofit leader or individual has to make. Most owners of businesses want a site that differentiates their company from competitors. A cookie-cutter site will not do. The site should make it clear what the client excels at doing. The site should also be fully accessible so that a visitor with low mobility or vision can access all of its features. In order to accommodate a business's, nonprofit's or individual's need for such a web design firm, the 10 Best Design has created this monthly award category that anyone can access and use for choosing their next web design team.
For the month of June, the top Los Angeles web design firm is SPINX Digital. This firm has a high satisfaction rating from clients, who have rated them highly on their intuitive site designs that are easy for guests to navigate. The eCommerce setups built by SPINX Digital inspire the trust of people who choose to make a purchase while on the site. SPINX Digital creates smart shopping carts with prompts.
Lounge Lizard is also excellent at website design. Its web sites are often focused on a specific niche, such as medical or dental sites. As a leading web design firm, Lounge Lizard can build SEO into the site design, which makes them a great value to their clients. Lounge Lizard is also a large firm of up to 250 full-time site developers and marketing specialists, and they offer ongoing support and site updates for their clients.
Blue Fountain Media is a longstanding leader among the top Los Angeles web design firms. The associates who work there are known for their responsive design strategies. These sites work well on all operating systems, browsers and devices. Their sites can also be set up for eCommerce, which allows a company to be more competitive. They ensure the security through modern encryption techniques. Blue Fountain Media is a large firm with up to 250 full-time staffers.
This is a new monthly awards category developed by the 10 Best Design listing site. It can be beneficial for companies to visit the site often. Company leaders and other interested parties can keep tabs on the best performers in the website development field. For more details about the award winners for June, visit http://www.10bestdesign.com.