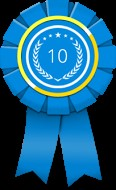 LOS ANGELES (PRWEB) September 19, 2019
Respected ranking organization 10 Best Design is excited to announce the winners of its Best Los Angeles Web Design awards for August 2019. The top three award winners in this category are SPINX Digital, Lounge Lizard and Blue Fountain.
10 Best Design pulled out all stops to generate this month's winners of the Top 10 Best LA Web Design Firm awards. The highly competitive web design industry made this month's rankings more competitive than ever before. Companies that made it the top 10 of the list employed constant innovation and revolutionary ideas in web development and web design styles. Following are summaries of three of the Top 10 Best Los Angeles-based Web Design Companies.
SPINX Digital emerged as the winner in this month's best Los Angeles web development company rankings. In its role as a top web design firm, SPINX Digital creates solutions that are designed to provide clients with a ground-up approach when it comes to web design and development. At the heart of SPINX Digital is a high-precision web development process that is inspired by innovation and handcrafting of website solutions to customers. In addition to web development, the agency emerged as a leader in the delivery of general web services, with the services focused on providing smart solutions in line with online marketing.
Lounge Lizard was ranked second among the top Los Angeles web design agencies. The digital services and solutions company is one of the best web design firms in the industry, and it commands huge respect from clients. It boasts employing some of the top knowledgeable and reputable web design professionals that the market has to offer. The company focuses on providing unique web design services to client businesses with a specific taste for customer-focused websites. The web design company creates a unique user interface to provide an unparalleled customer experience.
Occupying the first position in the rankings for August was Blue Fountain Media. Blue Fountain Media is a leading web design firm that is known for being a highly experienced, reputable, and customer-focused digital services company. Blue Fountain Media boasts providing customers with a unique experience when it comes to the field of web design. The company's web design services are well incorporated with its web branding approaches where it gives companies an opportunity to create a unique brand from the ground up. Blue Fountain Media specifically focuses on e-commerce websites, an area that it has perfected over the years to become a leader in its craft.
For more information about the August award winners, visit http://www.10bestdesign.com.