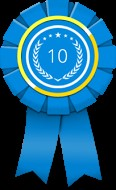 LOS ANGELES, Calif. (PRWEB) November 29, 2018
The 10 Best Design ranking service has started a brand-new monthly award for the top Los Angeles website development company, giving SPINX Digital the top honor for November.
Choosing the best web design firms in Los Angeles is not an easy task; however, the 10 Best Design listing service uses a strategic process for identifying leading agencies. 10 Best Design has evaluated companies based on how satisfied their clients are with their services, how many and what type of projects they take on and other factors. Company owners and individuals in the Los Angeles area who do not have the time to sort through hundreds of options can simply refer to this list when they are in need of a great web design service.
Heading up the list of the top Los Angeles website development companies offering web development services is SPINX Digital. This is a small firm with 10 to 50 full-time web developers. SPINX Digital creates sites that are customized to the client's needs. The sites tell the mission and story of the brand. This develops a fellowship between the viewer and the company, inspiring a loyal relationship. SPINX Digital's sites are responsive, easy to navigate and fully featured for a variety of functions. From eCommerce to instructional sites, the team at SPINX Digital delivers effective websites.
Also honored with a spot on the list of the 10 best Los Angeles web development firms is Eight25Media. Eight25Media is top web design firm with 50 to 250 full-time team members. It has earned a 99-percent client satisfaction rating for designing websites. The firm's area of expertise is in eCommerce platforms. Their secure platforms are easy to use and inspire the consumer to complete the check-out process. Eight25Media's sites are also responsive to mobile devices and different operating systems.
The third firm that was honored with a top position on November's list of best web design agencies is Blue Fountain Media. This firm's West Coast office is in Los Angeles. Blue Fountain Media is a medium-sized web development and marketing company, with a staff of 50 to 250 people. Being a leading web design firm, Blue Fountain Media has a client satisfaction rating of 98 percent for its web design services. Blue Fountain Media excels at responsive designs that check in to see which type of a device a consumer is using and adjust the display accordingly.
For more information about this month's award winners, visit http://www.10bestdesign.com.