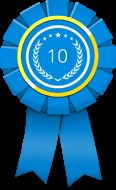 SAN FRANCISCO, Calif. (PRWEB) November 28, 2018
San Francisco-based awards organization 10 Best Design has selected the latest winners of its monthly award for Best Magento Web Design. For November 2018, Ruckus Marketing was chosen as the top honoree in this category.
This award is important because Magento is considered to be one of the top content management systems (CMS) for online shops. While it has an amazing back end that any end-user can learn, it still requires a level of skill to develop a more complex website based on it. This is why it is a good idea to contract a top Magento web design agency to handle the front-end and back-end development.
The competition to make it to the top of each monthly list is fierce as their financial benefits. Since most users tend to click within the first few results of a web site, they have the potential to go toward the top of this best Magento web design firm list. Being presented on 10 Best Design's new monthly list can also have a positive impact on SEO.
The top Magento web design firm is Ruckus Marketing, which is a large-scale agency that is well-deserving of recognition. They work with multi-national companies, startups and influencers to create a powerful branding experience. Interested companies should review their portfolio to see some of their impressive websites. In addition to design, they also have top-notch marketing services.
SPINX Digital Agency, a Los Angeles-based company, is one of the superstars of the list of top Magento web design agencies. They are a team of digital marketers, web designers and content creators that can create an amazing product for any eCommerce business. As expected, they also specialize in transforming Magento installations into commercial-grade online shops.
Another notable company on the November list of award winners is Eight 25 Media, a top Magento web design firm based in Silicon Valley. They are well known for other aspects of design and marketing, and their team is equipped with Magento experts to get any eCommerce business off the ground. Since they are so close to tech moguls and startups, their competitive environment has definitely sharpened their skills.
When shopping around for a developer, it is a good idea to evaluate all options possible. Although it is common to pick the first result on a list, one should always look at every website on 10 Best Design's list and choose the one that specializes in the right area of business. While the first result may work for many, even the last website on the list may work for other types of businesses.
For more information about this month's award winners, visit http://www.10bestdesign.com.