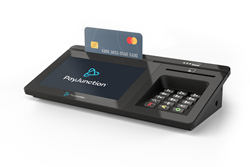 EMV transactions are completed in a few seconds, and all forms of mobile wallets are accepted with a simple tap.
SANTA BARBARA, Calif. (PRWEB) November 20, 2019
PayJunction®, a leading Merchant Service Provider and Payment Gateway, has announced the introduction of its TouchTerminal™, a customer-facing, cloud-connected payment solution that securely captures card data via dip, swipe or tap and eliminates paper receipts. A brilliant glass display, finger-based signature capture, and top-mounted card readers combine to deliver an improved checkout experience. The TouchTerminal connects with PayJunction's robust and secure Virtual Terminal, or can quickly and easily integrate with any software platform via the PayJunction API.
PayJunction customers who have begun using the TouchTerminal are receiving positive feedback from their customers and employees.
"At our dealership we have twelve TouchTerminals in use across our sales, service and parts departments. The new terminals have a smart, sleek design and support finger-based signatures. They take up less space but still have all the security features required of a cloud-based solution."
Steve Skaros, Controller -- Andrew Toyota
"The PayJunction team is proud to elevate the payment experience with our new TouchTerminal. Its new and elegant design, cloud services, and our award-winning support will continue to separate us from the pack. I can't say how proud I am of our team for, once again, raising the bar in the payments industry."
Randy Modos, President -- PayJunction
Businesses can provide a user-friendly sales experience that scales from a single shop with one checkout, to an enterprise with multiple lanes, departments and locations. EMV transactions are completed in a few seconds, and all forms of mobile wallets are accepted with a simple tap. Instead of using a pen and paper receipt or a tethered stylus, customers use their finger to quickly sign the display for receipts, work orders and other forms. A digital copy is stored in the cloud for easy retrieval at any time.
The TouchTerminal is cloud-based and protected by the latest advanced security technologies. Cardholder data is not transmitted or stored at the business's location, greatly reducing the cost and hassle of PCI compliance validation. Its compact size, horizontal layout, and well-placed card readers optimize overall footprint, eliminating the clutter associated with clunky mounting stands.
Businesses that process at least $25K in monthly card transactions qualify for a free TouchTerminal.
About PayJunction
PayJunction, founded in 2000, has continually disrupted the payment processing industry with an approach that combines customer advocacy, transparent and ethical pricing, and environmental consciousness. PayJunction's cloud-based gateway and processing platform consolidates credit, debit and check transactions made in person, online, over the phone and on the go. Its technology helps businesses increase productivity, reduce costs and elevate the customer payment experience. PayJunction processes over $5 billion annually, and is the most comprehensive developer of paperless payment software, committed to mitigating the carbon footprint across its rapidly growing customer base. PayJunction's dedication to valuing long-term relationships over short-term profit has earned the company widespread recognition and awards from Stevie®, Glassdoor® and others.
© 2019 Messiahic, Inc., d/b/a PayJunction. PayJunction, the PayJunction logo and other marks appearing herein are the property of Messiahic, Inc. and may be registered with the U.S. Patent and Trademark Office. All other marks are the property of their respective owners.