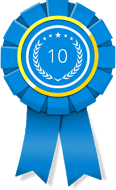 NEW YORK (PRWEB) October 29, 2018
10 Best Design has chosen the October 2018 winners of its Best New York Web Design award, with Ruckus Marketing taking the first-ranking position among the top winners.
Every month, 10 Best Design creates a list of what its employees think the best web design firms are. For just short of the past two years, 10 Best Design has published these lists on a monthly basis. The company has also helped consumers find out what the best digital marketing firms, search engine optimization service providers, and other types of businesses related to the Internet are.
For October 2018, 10 Best Design took a look at what it believes the best web design firms across the greater New York City area are. On this list, Ruckus Marketing, Blue Fountain Media, and jakt came in first, second, and third places, respectively.
Without the diligent work of the web design experts at 10 Best Design, businesses and individuals around the United States would struggle in trying to find out what the best web-related service providers are.
It's not surprising that Ruckus Marketing landed in the No. 1 spot among the best New York web design businesses. Even though Ruckus Marketing is a leading web design firm, the New York City-based company offers other services like brand development. The company is based on West 37th Street in the heart of New York City. It regularly works with some of the strongest brands in several industries that are popular across the greater New York area.
Blue Fountain Media earned a spot in second place on the list of top New York Website development businesses. Blue Fountain Media employs more experts than either of the other two web design firms on this list, though it only managed to finish in second place this month. Just like Ruckus Marketing, Blue Fountain Media has a full line of experts who hold expertise in just about every field related to the development of websites and digital marketing. Blue Fountain Media was fortunate enough to be named Acquia's 2018 Growth Partner of the Year.
Top web design firm jakt finished up in third place in October 2018. According to 10 Best Design, the third finisher on its list of what could be considered the Top New York Website Development Business was jakt. Having been ranked as the best web design firm in the past, jakt is known as one of the best companies of its kind across all of New York City.
For more information about the winners for October, please visit http://www.10bestdesign.com.