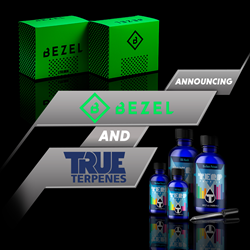 "Working with True Terpenes was a no-brainer," says Phil Kirkland who oversees Product Strategy at LTRMN. "Guiding these experiences for consumers is key to our growth and building brand affinity for the long term."
PORTLAND, Ore. (PRWEB) December 05, 2018
You can now experience two cutting edge Oregon brands at the same time - True Terpenes and LTRMN.
LTRMN, is a powerhouse in the cannabis industry with several brands including Sticks and Cabana rapidly taking market share. True Terpenes is an industry leading, award winning, botanical terpene company that focuses on using terpenes from non-cannabis sources to replicate the taste, aroma and effect of the plant. LTRMN recently launched their newest brand Bezel, which focuses on clean, quality vape cartridges that take the guesswork out of buying. Each Bezel product features True Terpenes natural, botanically-derived terpene profiles (such as Durban Poison) and isolated CBD, THC or a mixture of the two. The combination of True Terpenes and isolate gives Bezel's products consistency that allows consumers to get the same experience every time.
This is LTRMN's first vape line and True Terpenes made it easy to get started with a combination of turnkey aromatic solutions and custom profiles. "Working with True Terpenes was a no-brainer," says Phil Kirkland who oversees Product Strategy at LTRMN. "Guiding these experiences for consumers is key to our growth and building brand affinity for the long term."
Visit ltrmn.com/bezel to find an Oregon recreational cannabis retailers carrying the full-flavor and full-spectrum Bezel products today. For more information on True Terpenes products please visit http://www.buy-terpenes.com, email info(at)trueterpenes.com or call (888) 954-8550.