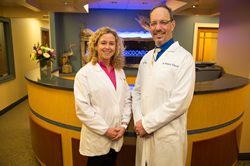 New London, CT (PRWEB) January 23, 2019
Drs. Gregory Toback and Marianne Urbanski, leading periodontists serving New London, CT and Westerly, RI, have announced Shoreline Periodontics' Synergy Study Club and Hygiene Study Club 2019 schedules. These continuing education courses hosted by Drs. Toback and Urbanski encourage advanced knowledge and continued development among area dental clinicians. Each session is devoted to helping dental professionals acquire and implement the latest techniques in periodontology to benefit patients with concerns such as tooth loss and periodontal disease.
January's Hygiene Study Club features keynote speaker, Dr. Rui Ma, who will present on the topic of "Maximizing Non-Surgical Periodontal Therapy." Dr. Ma's session will provide attendees with a better understanding of alternatives to traditional periodontal therapies. Participants can also earn three continuing education units (CEUs) at this meeting. The January Synergy Study Club Meeting, also available for three CEUs, will be led by Drs. Jeffrey Kozlwoski and Michael DePascale.
Later in the year, Dr. Jeffrey Rouse will speak at the Synergy and Hygiene Study Club on the subject of "Could It Be an Airway Problem? The Story of Three Patients" and Dr. Dean Vafiadis at the Synergy Study Club about "Digital Technologies & Full Mouth Rehab Without the Stress." Both Dr. Rouse's and Dr. Vafiadis' workshops offer six CEUs to participants.
In November, Drs. Toback and Urbanski will host "The Hygienist's Role in Long-Term Implant Health" for members of the Hygiene Study Club. Their three-hour talk will focus on the experiences they have had placing dental implants as periodontists serving New London, CT and Westerly, RI patients.
Those interested in learning more about either the Hygiene and Synergy Study Clubs by Shoreline Periodontics are welcome to visit http://www.shorelineperio.com. Memberships are available for the full year.
Individuals looking for periodontists in New London, CT and Westerly, RI areas, who concentrate on learning the most advanced technologies and treatment should contact Drs. Toback and Urbanski at Shoreline Periodontics to schedule initial examinations.
About the Periodontist
Shoreline Periodontics is a periodontal practice offering personalized dental care for patients since 1998 and is located in New London, CT and Westerly, RI. Leading board-certified periodontist, Dr. Gregory A. Toback, received his B.A. from St. John's University and his Doctorate of Dental Medicine from the University of Connecticut. He also received advanced training in periodontics and dental implants at the University of Texas Health Science Center in San Antonio. Dr. Toback focuses on minimally invasive surgeries, offering LANAP® and belongs to a small group of dental professionals currently providing the Chao Pinhole Surgical Technique™ for treatment of gum recession. Dr. Marianne Urbanski has been voted one of Connecticut's top dentists for more than seven years by Connecticut Magazine. Dr. Urbanski graduated cum laude from the College of Holy Cross in Worcester, Massachusetts where she earned a Bachelors' degree in Biology. She also received her Doctor of Dental Medicine degree and her Masters' of Dental Science degree from the University of Connecticut Dental School. Dr. Urbanski prides herself on offering caring, professional treatment to each patient. To learn more about Shoreline Periodontics and their dental services visit their website at http://www.shorelineperio.com or call 860-443-2428 for the New London, CT location, or 401-596-0000 for the Westerly, RI office.