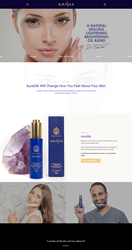 I love giving this to patients to use every day along with the AuraSilk Essential Oil blend we developed for an added dose of restorative healing, says Dr. Ben Talei
BEVERLY HILLS, Calif. (PRWEB) November 30, 2018
Dr. Ben Talei, one of the most respected facial plastic surgeons in the country, was featured in a November online Hollywood Reporter article entitled New Anti-Aging Protocols and Products. Author Elycia Rubin describes Dr. Talei as one of "the industry's most revered rejuvenation experts." Dr. Talei offers an expansive line of plastic surgery procedures for the face and neck plus top quality, renowned skin care products to help patients defy the effects of aging. These include his own propriety blend AuraSilk, which he mentions in the Hollywood Reporter article.
In the article, Dr. Talei also offers expert commentary and feedback on DefenAge 8-In-1 BioSerum. He recognizes that this topical anti-aging product works from the inside out, producing results in as little as six weeks with a milder experience than Retin-A. Dr. Talei is quoted in the article as saying, "I love giving this to patients to use every day along with the AuraSilk Essential Oil blend we developed for an added dose of restorative healing."
The AuraSilk Essential Oil product that Dr. Talei references is one that he personally developed and recently launched for all skin types. AuraSilk is a specially crafted blend of over 20 essential oils that can protect the skin and promote healing after surgery or from environmental factors like sun damage or old scars. Dr. Talei has recently made AuraSilk Essential Oil available at a special holiday offer of "buy one and get the second for 50% off."
Dr. Benjamin Talei is a double board certified facial plastic surgeon, known for excellence in facelift surgery. He is the owner and founder of the Beverly Hills Center for Plastic & Laser Surgery, a state-of-the-art facility located at 465 N. Roxbury Drive in Beverly Hills, CA 90210. Beyond his strong commitment to philanthropy and charitable works, Dr. Talei carries a reputation for using the most advanced, minimally-invasive techniques to produce natural and sustainable results.
About Dr. Ben Talei:
A native of California, Dr. Benjamin Talei graduated from the University of California, Los Angeles with a degree in Physiological Sciences. He received his medical degree at the University of California, San Diego School of Medicine. Dr. Talei then went on to complete his residency training in Head and Neck Surgery at Columbia University and Cornell University Medical Centers, New York Presbyterian Hospital. Following his residency program, Dr. Talei became one of the only surgeons in the country to complete two separate fellowships in Facial & Plastic and Reconstructive Surgery including a fellowship at the Vascular Birthmark Institute of New York. In addition, Dr. Talei is a respected author, speaker and humanitarian.
If you would like to get more information about Dr. Ben Talei, his plastic and reconstructive surgery services or his top-ranked skincare products, please visit his website at http://www.beverlyhillscenter.com or call (310) 288-0641.