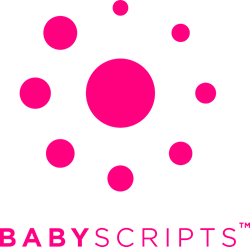 MILWAUKEE (PRWEB) October 03, 2018
Babyscripts, the leading prenatal app and the first mobile clinical tool to allow OB/GYNs to remotely monitor their pregnant patients' progress and health, is now available to expectant moms through their doctors at the Froedtert & Medical College of Wisconsin health network (MCW). Patients who choose to use Babyscripts will get tips and information about nutrition, lifestyle and health specific to their individual gestational age as well as Froedtert & MCW clinical prenatal education materials. The service is free and optional.
"Expectant patients are now able to access evidenced-based education anytime to guide them and give them more confidence about taking care of themselves during pregnancy," said Meredith Cruz, MPH, MD, a maternal fetal medicine specialist with the Froedtert & MCW health network. "We know that meeting our patients where they are and connecting in a personal and meaningful way outside of the clinic walls can improve the health and well-being of expectant moms and their babies."
Later this year, Froedtert & MCW health network will roll out the second phase of the Babyscripts app, where patients will have the opportunity to share specific data related to their pregnancy such as blood pressure and weight, and doctors can remotely monitor expectant moms' health and overall progress during the entirety of their prenatal journey.
"We are proud and excited to work with the Froedtert & MCW health network," said Greg Silvey, Executive Vice President of Babyscripts. "Expectant mothers will now have instant educational access in a mobile format and virtual care modules, potentially reducing the number of office visits. Whether it's through mobile engagement or virtual care, the Froedtert & MCW health network is on the cutting edge of care and it's an honor to work with such an organization."
Babyscripts is the latest service the Froedtert & MCW health network has introduced with the goal of improving an individual's ability to navigate health care on their terms and be guided to the most appropriate care. The health network's innovation accelerator, Inception Health, researched a host of tools and selected Babyscripts for its clinical evidence and personal, intuitive user experience.
About Babyscripts
Babyscripts™ is a new model for perinatal care that is transforming the way expectant mothers use technology to work with their OBGYN practice. It's the first mobile, clinical solution to provide remote monitoring of an obstetrician's patient population while directly improving patient satisfaction and practice reimbursement.
Froedtert & the Medical College of Wisconsin
The Froedtert & the Medical College of Wisconsin regional health network is a partnership between Froedtert Health and the Medical College of Wisconsin supporting a shared mission of patient care, innovation, medical research and education. Our health network operates eastern Wisconsin's only academic medical center and adult Level I Trauma Center at Froedtert Hospital, Milwaukee, an internationally recognized training and research center engaged in thousands of clinical trials and studies. The Froedtert & MCW health network, which includes five hospitals, one of which is a nationally ranked academic medical center, more than 1,600 physicians and nearly 40 health centers and clinics, draws patients from throughout the Midwest and the nation. In our most recent fiscal year, outpatient visits exceeded 1.1 million, inpatient admissions to our hospitals were 49,250 and visits to our network physicians totaled 932,000.  For more information, visit froedtert.com.