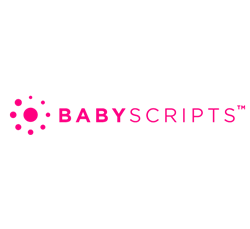 "Better perinatal care isn't just a Babyscripts mission, it's a public health concern," says Juan Pablo Segura, President and Co-founder of Babyscripts
WASHINGTON (PRWEB) February 22, 2019
Babyscripts, the leading virtual care platform for managing obstetrics, was announced as a winner in Phase 1 of the Health Resources and Services Administration's (HRSA) Maternal and Child Health Bureau (MCHB) Remote Pregnancy Monitoring Challenge on February 19, 2019. Phase 1 winners receive a share of a $100,000 cash prize and continue to Phase 2, where they will develop their prototype and begin small-scale testing through August 2019.
Babyscripts marks one of a large number of innovative and highly competitive submissions. The winning innovations are technology-based solutions that help providers remotely monitor the health of pregnant women, and empower women to make informed decisions about their own care. The innovations aim to increase remote and virtual access to quality care for low-income pregnant women, alleviate barriers to care, improve communications among patients, providers and/or broader support networks and support women who live in rural and medically underserved areas who have limited access to on-site prenatal care. Challenge entrants included multidisciplinary teams of academics, health professionals, tech companies, IT designers, as well as individuals, community groups, and startups.
Babyscripts has spent the last four years building a clinically-validated, virtual care platform to allow OBGYNs to deliver a new model of prenatal care. Using internet connected devices for remote monitoring, Babyscripts offers risk-specific experiences to allow providers to manage up to 90% of pregnancies virtually, allowing doctors to detect risk more quickly and automate elements of care.
In concert with this grant, Babyscripts plans to expand their focus from prenatal care to transforming the postpartum transition through the use of remote monitoring and provider-connected technology experiences, responding to ACOG's recommended guidelines for optimizing postpartum care.
"Better perinatal care isn't just a Babyscripts mission, it's a public health concern," says Juan Pablo Segura, President and Co-founder of Babyscripts. " We're excited that the Federal Government recognizes this and is helping us prioritize the 4th trimester. Imagine a world where every woman in this country gets the necessary resources and help if they are suffering from postpartum depression, postpartum hypertension, or a lack of lactation support. That's what we are fighting for at Babyscripts and we will not stop until we move the space forward!"
Babyscripts hopes to use this grant to make demonstrable improvements in the delivery of postpartum care for patients in the Washington DC area, particularly those with high socioeconomic risk. Part of this expected postpartum enhancement will be to specifically address postpartum hypertension readmissions and complications. The goal of a postpartum hypertension extension/module is to identify and manage complications that arise from hypertensive disease; including preeclampsia, risk for stroke, and readmission. Hypertensive disease is a leading cause of maternal morbidity and mortality and obstetrical readmissions in the United States, and also one of the easiest to prevent with immediate detection.
A diverse panel of experts will provide guidance for all aspects of the Challenge, and serve as mentors to the winners, providing feedback and evidence-based information. At the conclusion of Phase 2, 3 to 5 teams will be awarded a share of $125,000 and advance to Phase 3, the final phase of the Challenge. During Phase 3, teams will test their interventions on a larger scale and MCHB will select one winner to receive a grand prize of $150,000. Full details about the award can be found here.
About Babyscripts
Babyscripts™ is a new model for prenatal care that is transforming the way expectant mothers use technology to work with their OBGYN practice. It's the first mobile, clinical solution to provide remote monitoring of an obstetrician's patient population while directly improving patient satisfaction and practice reimbursement.
About Maternal and Child Health Bureau (MCHB)
The Maternal and Child Health Bureau (MCHB) is part of the Health Resources and Services Administration, an agency of the U.S. Department of Health and Human Services. Our Grand Challenges are designed to inspire innovation, promote partnerships, and help families and care providers address some of today's most important health issues.