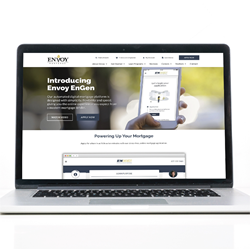 "EnGen is the next step towards a completely online end-to-end mortgage experience," said Dan Mulberry, Envoy CIO.
HOUSTON (PRWEB) February 17, 2020
National mortgage lender, Envoy Mortgage, announced the launch of its streamlined digital mortgage application, EnGen. The platform aims to provide flexibility, transparency, speed and automation to provide consumers with a seamless and user-friendly online application experience.
Envoy customers can now easily connect their bank statements, employment documents, tax information and track their loan progress all from their phone, tablet or computer—in minutes! Simultaneously, EnGen provides Envoy loan originators with the tools to simplify daily workflows, structure more deals and provide exceptional customer service.
"EnGen was designed to strengthen the loan originator to consumer relationship. The platform will allow our loan originators to provide exceptional customer service by receiving a notification when a customer starts an application and by having the ability to complete an application for the customer," said Dan Mulberry, Envoy CIO.
Some mortgage companies still force their consumers to endure multiple trips to the lending office, mountains of paperwork and multiple information inquiries. Envoy aims to reduce each of these issues with a time-saving digital mortgage application that allows customers more options and freedom to conveniently apply for a mortgage from the comfort of their own home or anywhere in the world.
"EnGen is a great start to the digital transformation that will drive further mortgage automation and move more processes to completion earlier in the operations timeline. This trend will allow the mortgage industry to become more efficient, less costly, and help drive down turn-times, so consumers can close on their home faster than ever before," said Mulberry.
EnGen or "ENvoy GENeration" satisfies end-user expectations by first delivering a message of transparency and power, and the strength and speed similar to that of an "engine", while simultaneously equipping Envoy loan originators and customers with the seamless and automated digital experience they expect from a modern mortgage lender.
The mortgage industry has a lot of work left in order to fully digitize the consumer and loan originator experience, but Envoy leads the charge with their forward-thinking mindset, prepared to leverage all new technology that slashes turn-times, provides convenience and delivers a mortgage experience that customers and loan originators will love.
"In the future, the mortgage industry is going to see more sources of pre-validated data and the use of emerging technologies such as data enrichment, AI, machine learning, natural language processing and predictive analytics. As a result, the industry will move closer to custom mortgages and the ability to close on a home in days instead of weeks! EnGen is the next step towards a completely online end-to-end mortgage experience," said Mulberry.
About Envoy Mortgage:
Founded in 1997, Envoy Mortgage is an independently owned national mortgage lender headquartered in Houston, TX dedicated to serving retail originators exclusively to allow them to serve their customers and grow their businesses. As a Fannie, Freddie and Ginnie approved seller/servicer, Envoy offers a full menu of loan products with locations across the U.S. Licensed in 48 states, Envoy branches deliver outstanding customer service while offering a full menu of loan products with the tools, expertise and technology needed to support all functions of the mortgage process. More information is available at http://www.EnvoyMortgage.com. Envoy Mortgage, Ltd. NMLS #6666.
Press Contact:
Melody Warren
Envoy Mortgage
mwarren@envoymortgage.com
713-714-1338