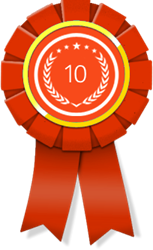 CHICAGO, Ill (PRWEB) October 24, 2018
In its latest round of monthly awards, 10 Best SEO has named the winners of its Best SEO Agency awards for October 2018. The top three winners are Straight North, Ignite Visibility, and Boostability.
This award category is significant due to the extreme importance of search engines. Search engines are among the world's most popular websites. Believe it or not, Google itself processes somewhere between one and two trillion searches on a yearly basis. With so much competition on the World Wide Web's search engines, getting good results for business' web pages often proves difficult, not to mention time- and effort-consuming.
Many businesses turn to the services of tried-and-true online marketers and search engine optimization agencies. A problem such businesses often run into is that they struggle in determining which service providers are the best. Thankfully, there is 10 Best SEO.
For the past year-plus, 10 Best SEO has employed a team of experts to rank what it believes to be the best digital marketing agencies and search engine optimization firms across the United States of America.
For October 2018, 10 Best SEO's list of what it believes to be the best SEO agencies was topped by Straight North, Ignite Visibility, and Boostability. This press release will summarize some of the reasons why 10 Best SEO felt that these three firms were among the best digital marketing firms in the United States. Straight North took home first place. Ignite Visibility came in a close second, and Boostability finished in third place.
Chicago, Illinois' own Straight North came in first on 10 Best SEO's October 2018 rankings of what it thinks is in the running for the title of the best SEO agency. As the leading SEO business, Straight North has generated upwards of 940,000 leads that they've verified. The company also offers free instant SEO audits.
Ignite Visibility is a top SEO agency based in San Diego, California. Mentioned among the likes of Search Engine Land, The Huffington Post, Entrepreneur, Forbes, and Inc., Ignite Visibility is regularly recognized as one of the nation's top contenders in all things related to digital marketing, advertising, and search engine optimization.
Boostability is well deserving to grace the list of best SEO businesses. The company makes its home in Lehi, Utah, a town of roughly 50,000 people. It has taken home a variety of awards from relevant news sources and ranking agencies, including being named one of the Top Local SEO Agencies in the United States in 2017 by UpCity, one of the Top SEO Firms in 2017 by Clutch, and being given the 2017 Customer Choice Award by Sitejabber.