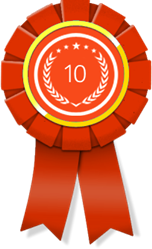 CHICAGO (PRWEB) June 26, 2019
10 Best SEO recently selected the winners of its Best SEO Agency awards for June 2019, honoring Straight North, Ignite Visibility and Boostability in the top positions.
This award is important because search engine algorithms are updated on a frequent basis, but they happen irregularly. A lot of business owners and entrepreneurs cannot keep up with it. This can become a problem when the site's headers, tags and content no longer match what the algorithms consider to be the right keywords for ranking the site. A rapid drop in search engine ranking can occur after one of those algorithm updates if the site is not set up with the trending keywords and long-tailed phrases that consumers are using when they do their searches. Nonprofits, businesses and individuals would do well to choose the best SEO agency to handle the important task of including up-to-date SEO on the site. An easy way to do this is with the 10 Best SEO list for this important tech service.
For June 2019, Straight North has earned the top spot on the list of the best agencies offering SEO services. Being a leading SEO agency, Straight North offers global, local and niche SEO. They employ diverse strategies in order to get more traffic to their clients. They do this by researching competing businesses and tracking the site's parameters. Straight North keeps up with the algorithm changes affecting SERPs.
Located in San Diego, Ignite Visibility is a medium-size firm offering great SEO services. As part of being a top SEO agency, Ignite Visibility provides both global and local SEO to companies across the USA. Their services include keeping sites up-to-date after algorithm changes and when the client adds a new product, service or mission to their company. The associates at Ignite Visibility are adept at researching trends in consumer terminology, allowing them to attain multiple first-page ranking for their clients.
Boostability, which is headquartered in Lehi, is a well-rounded and large firm of more than 250 marketing specialists. In its role as one of the best search engine optimization agencies, the company offers SEO for specific niches such as law and medical. They also handle school and dental SEO services. This firm has a lower than average hourly fee, making them a great choice for a firm that is working on a smaller budget but also needs updated SEO.
This is a brand-new monthly award by the 10 Best SEO service. Interested parties should return every month in order to check out which firms have earned a spot on the best search engine optimization agency list.
For more information about the winning companies for the month of June, visit http://www.10bestseo.com.