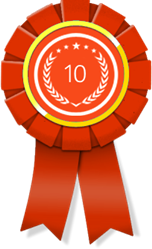 CHICAGO (PRWEB) December 26, 2018
10 Best SEO, a search marketing firm featuring a list of the most elite members of the marketing and advertising trade, recently announced the winners of its Best Social Media Marketing Agency award winners: Straight North, Ignite Visibility and Boostability.
This is a new monthly award offered by the search marketing firm, and the firm intends to continue featuring the best SMM firm in the industry. The Social Media Marketing Agency awards subject marketing agencies across the county through a rigorous evaluation process. Candidates include large and small firms alike and the firms' also range from high to low price points. The emerging award winners are comprised of companies who have proven their skills and expertise time and again in the highly competitive field of social media marketing.
This month's big winner was Chicago-based Straight North, a top SMM firm that earned a near-unprecedented rating of 98%. Straight North provides a complete offering of services for B2B and B2C companies and specializes in complex SEO, PPC, display and social media marketing.
The December winners also include San Diego's Ignite Visibility, leading SMM firm that took home the second-place prize. Ignite Visibility is a prior recipient of the Landy Awards and was recently named the No. 1 SEO company in the USA, UK and Canada by Clutch.
Boostability, a firm based out of Lehi, Utah, was honored with the third-place prize among the country's best social media marketing agencies. Of particular interest was Boostability's Boostsocial product line, featuring world-class social media marketing services for small businesses. Other close contenders for this month's award included SocialFix, Northcutt, Victorious SEO and SearchBloom.
Each of the businesses featured as one of the best social media marketing firms has more than earned its place on 10 Best SEO's list through dedication and hard work.
10 Best SEO was founded in 2012 and is located in San Francisco, California. In 2014, 10 Best SEO received recognition for its services, and it continues to be regarded as one of the most well-known SEO Agencies. Its Best SEO Agency awards are among the largest and most well-known industry awards.
For more information about this month's winners, visit http://www.10bestseo.com.