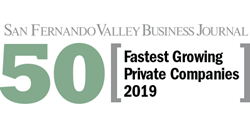 "We're thrilled to be recognized by the San Fernando Valley Business Journal for the hard work and dedication of the FayeBSG team," said David Faye, CEO. "Congratulations to all of these amazing companies in the Los Angeles area."
WOODLAND HILLS, Calif. (PRWEB) December 20, 2019
One of the largest SugarCRM Global partners, Faye Business Systems Group, today announced that it has earned a spot on the list of the Fastest Growing Private Companies as published by the San Fernando Valley Business Journal. The list of the fastest growing private companies is selected based on revenue growth for a three year period. FayeBSG joins the select ranks of independent companies for the fourth consecutive year.
This list was designed to identify, recognize and honor companies that are exhibiting the highest revenue growth and are at the forefront of LA's economy. The 50 companies included were ranked by percent revenue growth between 2016 and 2018. This year's version of the Business Journal's 50 Fastest Growing Private Companies reported combined revenue of over $7.4 billion.
"We're thrilled to be recognized by the San Fernando Valley Business Journal for the hard work and dedication of the FayeBSG team," said David Faye, CEO. "Congratulations to all of these amazing companies in the Los Angeles area."
About FayeBSG
Faye Business Systems Group is a global technology consulting and software company that helps companies grow by working with them to implement, customize and integrate innovative and effective financial and business systems. As a SugarCRM Elite partner and awarded the 2018 SugarCRM Global Reseller of the Year, FayeBSG is also a leading partner with Sage, Zendesk, Acumatica, Ytel, Hubspot and a variety of custom software solutions.
FayeBSG is known for their SugarCRM integrations with Sage 100, Quickbooks, NetSuite, Acumatica, Intacct, Constant Contact, Authorize.Net, Hubspot, Ring Central, Box, Jira, Ytel, and more. Services include project management, software implementations, consulting, training, custom development, and support.
Specializing in software implementations for a variety of industries, FayeBSG has customized successful CRM and ERP platforms for a variety of mid-market and enterprise businesses.
For more information, please visit http://www.fayebsg.com.