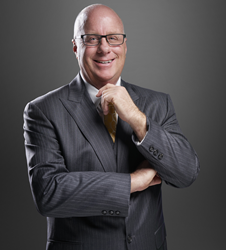 Chris is a sales and operations executive who has delivered top results for many years. Not only does he have a proven ability to establish clear business plans, communicate company expectations and build high-performance teams (...)
LOS ANGELES (PRWEB) March 03, 2020
Water, Inc., the premier Western U.S. distributor of quality drinking water systems, has named Chris Arnold as its new vice president of sales. Arnold brings more than 35 years of experience in interior design to his new position, including 15 years in building, designing and operating product showrooms.
He will train and mentor the company's regional sales managers, work closely with vendors and be heavily involved in product development and marketing communications. Company CEO Major Avignon said Arnold's expertise in interior design and showroom design will bring a valuable new perspective to the position.
"Chris is a sales and operations executive who has delivered top results for many years. Not only does he have a proven ability to establish clear business plans, communicate company expectations and build high-performance teams, he also has set standards for creating truly unique customer experiences in the showroom environment," said Avignon. "He will work with both vendors and regional sales managers to be more effective and connected with our showroom customers and end consumers."
TWEET THIS: Leading supplier of water filtration products @Water_Inc names 35-year industry veteran Chris Arnold as vice president of sales. #WaterInc https://www.waterinc.com/
Avignon and Arnold have known each other for many years, going back to Arnold's time as chapter president of both NKBA (National Kitchen & Bath Association) and ASID (American Society of Interior Designers), and it quickly became apparent that Arnold's background and relationships were a perfect fit for the company. Arnold has earned the NCIDQ (National Council for Interior Design Qualification) qualification and is a professional member of ASID.
"At its core, interior design is based on creating a living space that enhances health, safety and wellness, and Water, Inc. is a leading supplier of water filtration products that promote health and wellness. The two are so complementary that when the opportunity to come on board presented itself, I couldn't think of a better company to join and help grow," said Arnold.
One product Arnold will focus on promoting is the company's Ozone Faucet—a new product that adds natural ozone (a combination of three oxygen molecules instead of two) into the kitchen sink's water supply to allow consumers to quickly kill bacteria on food and remove pesticide residue on fruits and vegetables, all without additional chemicals. Washing food, hands, dishes and baby bottles with ozonated water kills over 99% of bacteria and extends the shelf life of fruits, vegetables, meat and flowers by two to three times.
A Southern California native, Arnold earned his interior design degree from the University of California, Riverside, and previously managed multimillion-dollar showrooms and produced sales increases for companies including Monark Premium Appliance, Pirch and Standards of Excellence.
For more information about Water, Inc. and its products, please visit waterinc.com.
About Water, Inc.
For nearly 40 years Water, Inc. has been committed to providing excellent products and customer service. As a leading supplier of drinking water filtration products, water systems, plumbing hardware and luxury appliances, Water, Inc. has built a lasting impression as an honest company with a passion for making a difference. For more information the company, call 800-322-WATER (9283) or visit http://www.waterinc.com.