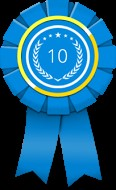 NEW YORK (PRWEB) April 22, 2019
10 Best Design is pleased to announce the winners of its Top Web Development Business awards for April 2019, with Ruckus Marketing and Blue Fountain Media taking top honors.
This award is important because in today's world, business owners who want their organizations to excel in the ecommerce sector must have a dynamic digital marketing plan in place at all times. To ensure that this happens, the professionals of this company are pleased to feature the Best Web Design Firm awards. Businesses can learn more about the top web development business companies by reviewing the following information on the winners.
If any company should be listed as the best web design firm, Ruckus Marketing should. The professionals of this organization maintain a holistic approach to the web design process, and this is why the sites they develop are so unequivocally incredible. At Ruckus Marketing, time is spent optimizing all of the following factors: relevance, usability, mobile friendliness, aesthetic appeal, and conversion. Business owners who choose Ruckus Marketing should know that they are putting themselves on the path to success and sophistication in the ecommerce world.
Blue Fountain Media was also hailed as one of the top web development businesses for April 2019. When business owners get serious about pushing their organizations forward, they should turn to the professionals of Blue Fountain Media. The techies of the organization excel in putting together highly original, innovative websites that will get prospective clients excited about the products and services offered by the brand owner. The Blue Fountain Media representatives know that each brand is highly distinct, and this is why they maintain a customized approach to the web design and development processes. Additionally, Blue Fountain Media's representatives regularly confer with the corporate leaders and small business owners they serve to ensure that everyone is on the same page at all times.
Leading web design firm Spinx Digital also emerged on April's list of exemplary providers. Spinx Digital is the organization to trust when business owners get serious about ecommerce excellence. As individuals who are passionate about web design and development, the techies of the company are known for working with diligence and dedication to construct cutting edge, competitive websites that will generate substantive conversion rates. In addition to ensuring that the client's site is unequivocally beautiful, the Spinx Digital representatives excel in cultivating websites that are highly functional and mobile-friendly.
For more information, visit http://www.10bestdesign.com.