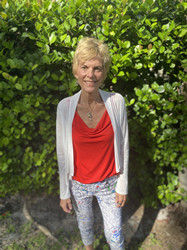 We see broken lives walk through our doors every day and it is my goal to not only create a healing experience but to also ensure that clients feel that we are truly invested in their long-term recovery.
LANTANA, Fla. (PRWEB) October 29, 2020
Lucida, a leader in mental health and substance use disorder treatment, announced today the addition of Susan Shirley as its new clinical director. Susan steps into the role with over 30 years of clinical experience in the mental health and addiction sphere along with impressive expertise in leadership in both nonprofit and enterprise settings. She plans to implement transformative modifications to improve the client experience by building on current programming, streamlining clinical care and strengthening staff relations.
Whether it be in nonprofit, for profit, in a facility, hospital, institution, or her own private practice, Susan has expert knowledge in mental health and addiction rehabilitation services, how to streamline those services and what policies are necessary to create a successful program. She has worked in a variety of leadership positions over the last 17 years, both in Florida and in Louisiana, instituting clinical standards and processes that ensure overall growth and staff retention. Susan is also a nationally certified parent coordinator and a founding member of the National Association of Divorce Professionals. She helps parent coordination, mediation and evaluates custody for divorce cases nationally.
As the clinical director of Lucida, Susan has already begun initiating modifications and introduced new service procedures to help not only with the client experience but to create sound, evidence-based programming. To help streamline these modifications, Lucida will see schedule restructuring to ensure that clinical staff is available seven days a week and employ cohesive therapeutic models to ensure there is no lapse in treatment curriculums. Susan is also working to ensure that communication lines are clear and that unique client planning is available from the time the individual is admitted to their discharge and on as the client steps down into a lower level of care. She is working transparently with staff to fortify team relationships and working to establish a team mindset. She believes that with purposeful leadership, the Lucida staff will feel reassured in their roles and gain a renewed passion for helping people work through their mental health and substance use disorders.
"I live by Gandhi's famous quote 'Be the change you wish to see in the world' and I hope to bring this mantra into action as I work alongside Lucida's dedicated staff to help people find healing," mentioned Susan. "We see broken lives walk through our doors every day and it is my goal to not only create a healing experience but to also ensure that clients feel that we are truly invested in their long-term recovery."
As Lucida moves forward, staff, clients and client families can feel confident that this growth will create long-lasting outcomes. With Susan's leadership skills, a change in structural procedures, reinforcing evidence-based practices and creating a strong team atmosphere, Lucida can look to the future with a renewed passion to help people find hope and healing.
About Promises Behavioral Health
Promises Behavioral Health is a family of behavioral health programs with regional brands such as The Right Step, The Ranch, and Promises. The company currently operates facilities across Texas, Tennessee, Florida, Pennsylvania and Massachusetts. Promises offers comprehensive, innovative treatment for substance abuse, sexual addiction, trauma, eating disorders and other mental health disorders. Through its programs, the company is committed to delivering clinically sophisticated treatment that promotes permanent lifestyle change, not only for the patient but for the entire family network. For more information, please visit http://www.PromisesBehavioralHealth.com.