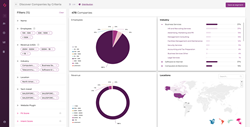 "Our data agnostic approach to solving modern B2B marketing and sales challenges allows us to build the ultimate segmentation hub." –Amnon Mishor, Leadspace Founder/CTO
SAN FRANCISCO (PRWEB) October 19, 2020
Leadspace, the leading B2B customer data platform provider, today announced that their unique segment building utility is generally available for customers using their Leadspace On-Demand application. This announcement comes with their Fall 2020 product release, which also includes updates to their custom data ingestion engine and enterprise account mastering solution.
"We think our data agnostic approach to solving modern B2B marketing and sales challenges allows us to build the ultimate segmentation hub," explains Leadspace Founder & CTO, Amnon Mishor. "With a unified B2B graph that takes in embedded data from 30-plus sources, access to branded data, and customers' internal data and scoring, marketers can create a comprehensive segment, expand it with persona profiles, then push it across any channel for orchestrated campaigns."
The segment builder utility comes standard along with access to Leadspace On-Demand in all of the company's CDP packages. Today users can create company segments for ABM and other account-targeted efforts using criteria like revenue, employees, location, industry, installed technology, fit scoring, and intent scoring, then target down to the specific buyer personas they want to engage. Premium Leadspace CDP packages give customers the ability to include internal data filters to create comprehensive, laser-targeted segments with CRM or MAP fields. The Fall release also brought an enhanced distribution view for examining and better refining segments before activating and expanding them.
Leadspace is also further bolstering its platform's data agnostic capabilities with updates to its custom data ingestion engine that enables customers to build their own, custom unified B2B graph with proprietary data. The engine will now support ingestion of all person-level data at scale.
As legacy CRM data solutions like Data.com reach their end-of-life, many customers have looked to Leadspace to build processes and flows for account record mastering. With the Fall release, the company is extending their beta solution for delivering enterprise-class account master records that include customizations to match confidence, data normalization, and more. Many of the customers taking advantage of these services rely on this trustworthy account information as the foundation for territory planning, lead assignment, and overall CRM data governance. They have seen tremendous improvements in productivity, decreases in territory and lead conflict, and stronger trust in the data and CRM system.
To learn more about Leadspace, and to get a demo of some of the Fall release features, visit Leadspace.com »
ABOUT LEADSPACE
Leadspace is the leading B2B Customer Data Platform (CDP) provider helping companies take back control of their data and empowering sales and marketing teams to accelerate growth through accurate, personalized engagement across all channels. With the most robust and open B2B data engine in the industry, sophisticated AI, a proprietary graph of B2B personas, and activations across the go-to-market tech stack, customers like Microsoft, Amex, RingCentral, and many more use Leadspace to power more data-driven and effective inbound marketing, outbound targeting, and ABM efforts. Leadspace is based in San Francisco, Austin and Israel, and is trusted by more than 200 B2B brands including 7 of the 10 largest enterprise software companies.