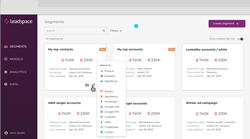 "One of our guiding principles is being data agnostic, so we've worked hard to build partnerships with a wide range of the best data providers in the industry." — Doug Bewsher, CEO, Leadspace
SAN FRANCISCO (PRWEB) August 19, 2020
Leadspace, the leading B2B customer data platform provider, today announced details of its Summer 2020 product release. As companies focus on their data strategy for account mastering and ABM programs, Leadspace has worked to provide increased enterprise scale and flexibility across its platform. Highlights include the addition of Equifax commercial data, the creation of direct connectors to advertising platforms, and expanded intent data capabilities.
Integration of Equifax commercial data further bolsters Leadspace's offerings in data management and unification. With a B2B graph made up of over 40 different data sources, Leadspace's flexible platform is increasing the ability to allow for any kind of mix and configuration customers require. As B2B companies continue to grapple with disconnected data sources and vendors, Leadspace is focusing on unique tools to connect the dots and help marketing and sales teams put their energy into what they do best.
"One of our guiding principles is being data agnostic, so we've worked hard to build partnerships with a wide range of the best data providers in the industry. We're excited to integrate Equifax commercial data into the Leadspace CDP, one of the company data sources with the broadest coverage across the globe," notes Leadspace CEO, Doug Bewsher. "With this release, we've also continued our work applying AI to additional B2B use cases, unifying customers' internal data and intelligence, and activating all of it across any channel they use to interact with their end customers. The companies we work with are really helping push our platform to new levels with all their innovation."
Building on their channel-agnostic vision, Leadspace is also releasing the first of several direct connectors to popular social networks and advertising platforms to fuel more targeted and data-driven audiences. Customers are using these connectors to activate audiences and reach the specific accounts and people that are more likely to buy, using data only available through the Leadspace platform like persona profiles, company fit scoring, intent, technographics, and more. These audiences are fed into the advertising channels, where customers can use the myriad of ad products — like sponsored posts, display ads, and lead forms — to drive more engagement, conversions, and opportunities.
Intent data is also a hot topic for B2B, promising the ability to detect buying signals early in the journey and power personalized, relevant experiences. Leadspace has long partnered with Bombora to activate their industry-leading intent data, and will now offer additional capabilities, including combining multiple intent signal sources and more frequent deliveries. This intent data can be easily activated across any of Leadspace's apps and integration to use for building targeted segments, powering focused marketing automation programs, and delivering details to sales right in CRM and giving personalized outreach triggers.
The Summer product release also included continued work on the Leadspace Segment Builder announced in Spring, with new support for 1st party data and scoring to work from and even more unified, holistic foundation.
To learn more about Leadspace, and to get a demo of some of the Summer release features, visit Leadspace.com »
ABOUT LEADSPACE
Leadspace is the leading B2B Customer Data Platform (CDP) provider helping companies take back control of their data and empowering sales and marketing teams to accelerate growth through accurate, personalized engagement across all channels. With the most robust and open B2B data engine in the industry, sophisticated AI, a proprietary graph of B2B personas, and activations across the go-to-market tech stack, customers like Microsoft, Amex, RingCentral, and many more use Leadspace to power more data-driven and effective inbound marketing, outbound targeting, and ABM efforts. Leadspace is based in San Francisco, Austin and Israel, and is trusted by more than 200 B2B brands including 7 of the 10 largest enterprise software companies.