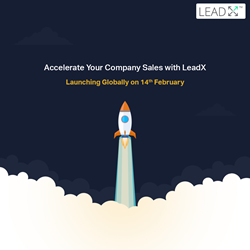 Everyone has a network, but they lack the tools and incentives to generate leads for their company. LeadX helps generate warm leads for their sales team and get incentivized.
OSLO, Norway (PRWEB) February 14, 2020
LeadX AS; today announced that they are releasing LeadX 2.0, with premium features like multi-organization, Salesforce Integration, Simplification of posting leads, Digital Bell for notification and Pulse - An analytical dashboard.
A mobile first platform, LeadX helps organizations share and process leads across organizational silos. Ensure warm introductions to customers and drive revenues. This allows organizations to create maximum synergy with their network of stakeholders by leveraging employee lead generation.
LeadX's own research and leading market surveys demonstrate that the companies that will have the greatest success and sustainable competitive advantage for the next ten years, will be those who are extremely skilled at exploiting and creating maximum synergy with its network of stakeholders (suppliers, employees, customers, investors and strategic partners).
Companies will have to shift their mindset from traditional business models and instead of relying on salespeople alone for revenue and value creation, future successful sales organizations will depend on value creation and revenue promoters using various employee engagement tools, coming from all parts of the organization.
"We are excited about the progress we have made as team since inception; we got tremendous response from our global customers and investors for our LeadX 1.0 launched September 3rd 2019. This motivated us to scale our journey to LeadX 2.0; enabling our customers to create a lead through simpler workflow, integrating CRM data through Salesforce Integration feature and bringing effective forecasting through powerful BI feature" says Tom Aas, the CEO of LeadX AS in this press release.
Tom also noted, "Everyone has a network, but they lack the tools and incentives to generate leads for their company. LeadX helps generate warm leads for their sales team and get incentivized. We are disrupting this blue ocean market with our revolutionary product."
Multi-Organization: Allows tenant (LeadX Customer) to create accounts/ child-organizations for their channel and service partners, who can create & manage leads in complete isolation to other partners.
Improved Lead Generation Workflow: Allows end users to create leads in few seconds.
Salesforce Integration Wizard: Allows customers establish integration with existing Salesforce CRM instance with-in few minutes thereby achieving seamless data flow between CRM and LeadX
Digital Bell: It's a revolutionary feature by LeadX resembling bell on the flow to celebrate the deal wins.
Pulse: light weight dashboard for managers to analyze the sales date and visualize the forecasting.
Pricing & Availability
New release 2.0 is expected to begin rolling out starting 15th Feb 2020. Book a product demo with our customer success team here.
Pricing categories can be accessed here.
About LeadX: LeadX AS Norway headquarters company; with vision of "Empowering everyone in the organization to generate leads, grow revenue, and get recognition" tries to solve the core problem of siloed Lead generation to one department and limited to a few".
LeadX has a clear business strategy for Europe, USA and India. While close to 40 IT Engineers working on different features to fine-tune the product features and build a world class platform; the global sales & marketing team in Norway, Benelux and India relentlessly strive to reach out to customers.
Our Website: https://getleadx.com/
Please Join the Global Launch of LeadX 2.0: https://getleadx.com/event/