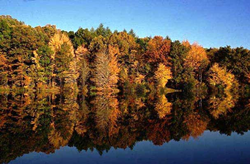 KNOXVILLE, Tenn. (PRWEB) September 24, 2019
It's almost time for cooler weather, pumpkin spice, sweaters and Mother Nature's glorious fall colors. With the arrival of autumn and its beautiful display of colors, a visit to Tennessee River Valley in October and November proves to be just as colorful as it is fun. From casual walks and hiking tours to exploration by car and guided boat tours, there are plenty of ways to enjoy the amazing sights nature has to offer in the Tennessee River Valley.
Blue Ridge Parkway
Take a front seat view to the Southeast's beautiful colors along the Blue Ridge Parkway. Featuring the highest mountain views on the East Coast, the Blue Ridge Parkway was built to connect the Great Smoky Mountains National Park to Shenandoah National Park. The Parkway's 469 miles through Virginia and North Carolina offer many ways to explore rich traditions. Popular attractions during autumn include Grandfather Mountain, McAfee Knob on the Appalachian Trail in the Shenandoah Region of Virginia, and Richland Balsam Overlook in North Carolina, the highest point on the Blue Ridge Parkway at 6,053 feet.
Norris Lake Fall Color Boat Trips
Enjoy nature's spectacular array of fall colors on Norris Lake on a pontoon boat ride guided by a local park ranger. Venture along the shores and view the beautiful fall foliage while park rangers narrate the trip with tree identification and park history. Bring a pair of binoculars to view fall's colors and wildlife while learning about the area's history. Each boat ride will last approximately one hour. Fall color boat rides are scheduled the last two weeks of October and scheduled times are 11:00 a.m., 12:30 p.m., 2:00 p.m. and 3:30 p.m. each day. Ticket prices are $8 for adults and $5 for children five and under. To make reservations, call the park office at 865-426-7461 or 865-425-4500.
A Walk in the Woods
The Smoky Mountains always put on an impressive autumn display. For tours beyond the pretty fall foliage, schedule a tour with A Walk In The Woods, full range tour guide service offering nature walks, day hikes traveling deeper into the forest and interpretive scenic drives where experienced guides take visitors on a once in a lifetime Smoky Mountain tour. Guides are experts in medicinal and edible uses of wild plants and mushrooms, wild animals and their habits, backpacking, primitive skills, outdoor survival and local human history, including the Cherokee and early settlers. With an emphasis on the teaching of natural history, tours range from easy and moderate walks to day hikes and driving tours, and may include stops at beautiful vistas, waterfalls, wildlife viewing, crystal clear streams, majestic forests, hidden trails, old home sites, graveyards or exquisite views to the tops of mountains.
Bear Creek at Tishomingo State Park
For some of autumn's best scenery in Mississippi, plan a visit to Tishomingo State Park. Winding through the state park is Bear Creek, a scenic stream settled within the bluffs of the park. The park offers a 6.25-mile canoe float trip down the rocky-bottomed stream with the take-out point at the park. Scenic sandstone bluffs combined with fall's beautiful colors provide plenty of photo opportunities. Class I rapids with long pools between provide for an enjoyable and exciting trip for all ages. The float trip operates daily from mid-April until mid-October. A fee of $40 is required for the canoe trip and advance reservations are recommended. Contact the park office at 662-438-6914 for reservations.
DeSoto State Park
Fall is one of the busiest times of the year in northeastern Alabama. In and around DeSoto State Park near Fort Payne, a hint of color usually begins to appear in early October and lasts well into November. Historically peak fall color has been between the third weekend of October into the first part of November. DeSoto State Park offers miles of hiking trails, beautiful bluffs and rock formations, a number of waterfalls and spectacular views of DeSoto Falls giving visitors with plenty of opportunities to enjoy the colors of Mother Nature.
Little River Canyon
For one of the best shows of fiery reds, deep golds and burnt oranges in Alabama, plan a visit to Little River Canyon, the deepest canyon in Alabama, and one of the deepest in the southeast United States. The eleven-mile scenic drive located on the western side of the canyon along Ala. Highway 176 near Fort Payne allows visitors to view the splendor of the canyon from a series of overlooks. Each overlook has a pull-off to park and enjoy the scenery where very little walking is required. For those feeling a little more adventurous, there are trails available to explore ranging from easy and moderate hikes on top of the mountain to more strenuous hikes down to the canyon floor.
When planning a journey, check social media accounts for area towns and communities to get an idea of when leaves will begin to change colors. These are a great resource, with many sharing weekly and even daily fall color photos. Another handy website to check locations in all states is https://smokymountains.com/fall-foliage-map/.
For more information or to discover additional things to see and experience in the Tennessee River Valley, visit http://www.exploreTRV.com. All listings have been nominated by local people who know the region best and offer visitors the most unique, fun and interesting experiences.