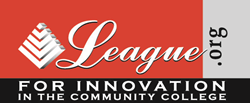 CHANDLER, Ariz. (PRWEB) November 12, 2019
The League for Innovation in the Community College Board of Directors is pleased to welcome Jackson College to its membership. This U.S.-based institution will be represented on the Board by President and CEO Daniel J. Phelan.
"We are fortunate to have Jackson College join the League's board of directors," said Board Chair Dr. Sylvia Jenkins. "Under President Phelan's leadership, faculty and staff at Jackson College have become some of the most innovative and forward-thinking in the world in their support of student success."
Founded in 1968 by B. Lamar Johnson and a dozen U.S. community and technical college presidents, the League has proudly served community college institutions for more than five decades. The Board colleges are joined by almost 500 institutions that hold membership in the League Alliance. With this core of powerful and innovative community colleges and numerous partners, the League fulfills its mission to cultivate innovation in the community college environment through conferences and institutes; online resources; research; and projects and initiatives with member colleges, corporate partners, government agencies, and private foundations.
CEOs from the most influential, resourceful, and dynamic community colleges and districts in the world currently comprise the League's Board. League President and CEO Rufus Glasper welcomes Jackson College and President Phelan to the League Board, stating, "Innovation is a critical element of Jackson College's mission, vision, and values, and Dr. Phelan's dynamic leadership is guiding the institution into the future. We look forward to courageous conversations seeded by innovation."
According to the college's website, since joining Jackson College as the President and CEO in 2001, Phelan has been active at the local, state, and national levels as a consultant and teacher in higher education, leadership, quality, and management. His book, Unrelenting Change, Innovation, and Risk: Forging the Next Generation of Colleges was published in 2016.
"We are deeply humbled to have been invited and accepted as a Board member for the League for Innovation in the Community College," said Dr. Phelan. "I have always had an abiding level of respect for this organization, comprised of some of the nation's foremost community college leaders. To now be a part of the League is an organizational and professional dream achieved. We are honored."
About the League for Innovation in the Community College
The League for Innovation in the Community College (League) is an international nonprofit organization with a mission to cultivate innovation in the community college environment. The League hosts conferences and institutes, develops print and digital resources, and
leads projects and initiatives with almost 500 member colleges and a host of strategic partners and government and nonprofit agencies in a continuing effort to advance the community college field and make a positive difference for students and communities. Information about the League and its activities is available at http://www.league.org.