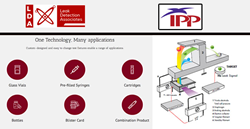 Global expansion is a key initiative of the new Leak Detection Associates management team and we are excited to partner with IPP to make this possible in Ireland and the UK
EGG HARBOR TOWNSHIP, N.J. (PRWEB) May 22, 2019
Leak Detection Associates (LDA), the world's premier manufacturer of custom built, helium-based leak testing instruments for the Pharmaceutical, Biotechnology, Medical Device and Food Packaging Industries' is excited to announce that a formal partnership agreement with Industrial Production Processes (IPP) Ltd has been signed. The agreement will grant exclusive rights for IPP group to represent LDA in the countries of England and Ireland. With locations in Cork, Ireland and Worcestershire, UK, IPP is well positioned in both locations to meet the needs of LDA clients who are in need of helium-based leak testing instruments and systems and the ancillary services that go with them. IPP maintains of staff of 24 service and sales engineers that will be in the ready to serve existing and new clients. As a leading package system instrument and service provider in these geographic areas, IPP has the local knowledge and experience to enhance the already strong Leak Detection Associates' brand.
"Global expansion is a key initiative of the new Leak Detection Associates management team and we are excited to partner with IPP to make this possible in Ireland and the UK," commented Brian Mulhall, CEO of Leak Detection Associates. "I have known and worked with Jack Daly and the IPP group in previous settings and the team always brings a high level of knowledge, experience and client care to their work. They are a leading provider of package equipment and laboratory instruments in these countries and we are happy they will be our partners."
Commented IPP Managing Director Jack Daly, "Partnering with LDA was an easy and natural decision as we are already well established in the relevant packaging instrument field and their technology allows the IPP team to better serve our client base with a broader product and service offering."
IPP will serve as the exclusive product and service provider for Leak Detections Associates complete line of products and services. The current model SIMS 1284+ helium leak detection instrument is the only custom designed and manufactured helium leak testing instrument that meets the regulatory requirements of the pharma, biotech and medical device industries. In addition, LDA and IPP will offer a full suite of support services that will include custom designed change parts to address various container and package configurations, system parts and add-on options as well as local service, repair and qualification programs.
About Leak Detection Associates, LLC
For over 20 years, Leak Detection Associates has been the premier manufacturer of custom helium leak detection instruments for the pharmaceutical, biotechnology, medical device and food packaging industries. LDA's well-established technology has been incorporated into ASTM and compendia guidance documents. This robust industry experience, combined with the advanced capabilities of the flagship SIMS 1284+ helium leak detection unit, provides companies with tools to quantitatively evaluate leakage, improve the package development cycle, establish manufacturing controls, and ultimately reduce risk to the product and consumer throughout the lifecycle.
About Industrial Production Processes (IPP) Ltd
With over 40 years' experience, IPP (IPT Ltd trading as IPP in Ireland and formerly APP in the UK) is a technical distributor of manufacturing equipment to the electronics, pharmaceutical and medical device sectors across Ireland and the UK. With a strong presence representing package equipment and instrumentation, our team of service and sales engineers is committed to meeting the technical requirements of our clients in a timely and effective manner.