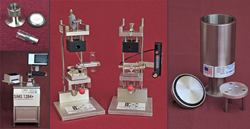 In addition to more detailed descriptions of products, services, and applications of helium to specific package systems, the Resource Center will serve as an industry-leading destination for up-to-date information on all aspects of CCI
EGG HARBOR TOWNSHIP, N.J. (PRWEB) May 13, 2019
Leak Detection Associates (LDA), the world's premier manufacturer of custom built, helium-based leak testing instruments for the Pharmaceutical, Biotechnology, Medical Device and Food Packaging Industries' is excited to announce the go-live of a completely new Heliumleak.com company website. The redesigned website aims to improve LDA's ability to communicate directly with the marketplace; serving as a destination to learn LDA's product and service offerings, news and events, but also as a knowledge center for those interested in helium leak detection applications and CCIT in general.
"For those first exploring any topic, whether it be CCI or unrelated, the first step will be to seek information online." commented Brian Mulhall, CEO of Leak Detection Associates. "In redesigning LDA's Heliumleak.com, this was kept in mind. In addition to more detailed descriptions of products, services, and applications of helium to specific package systems, the Resource Center will serve as an industry-leading destination for up-to-date information on all aspects of CCI. Blogs and Whitepapers will routinely be released discussing unique applications of helium leak detection and CCI in general, and an entire section is dedicated to topics such as FDA, EMA, USP, and ASTM guidance."
The Products section now includes more detail about LDA's flagship detector, the SIMS 1284+, but also will serve to highlight current and future complimentary offerings, such as LDA's proprietary vial filling kit and Headspace Analyzing Module (HSAM), which allow for testing of pre-sealed vials. The redesigned services section now clearly highlights LDA's 20+ years of experience in qualification, calibration, but also consultation, feasibility, and method development services. Uniquely, an entirely new section was added for Applications, which discusses helium-leak approaches for specific package systems, such as vials, pre-filled syringes, combination products, blisters, and more.
About Leak Detection Associates, LLC
For over 20 years, Leak Detection Associates has been the premier manufacturer of custom helium leak detection instruments for the pharmaceutical, biotechnology, medical device and food packaging industries. LDA's well-established technology has been incorporated into ASTM and compendia guidance documents. This robust industry experience, combined with the advanced capabilities of the flagship SIMS 1284+ helium leak detection unit, provides companies with tools to quantitatively evaluate leakage, improve the package development cycle, establish manufacturing controls, and ultimately reduce risk to the product and consumer throughout the lifecycle.